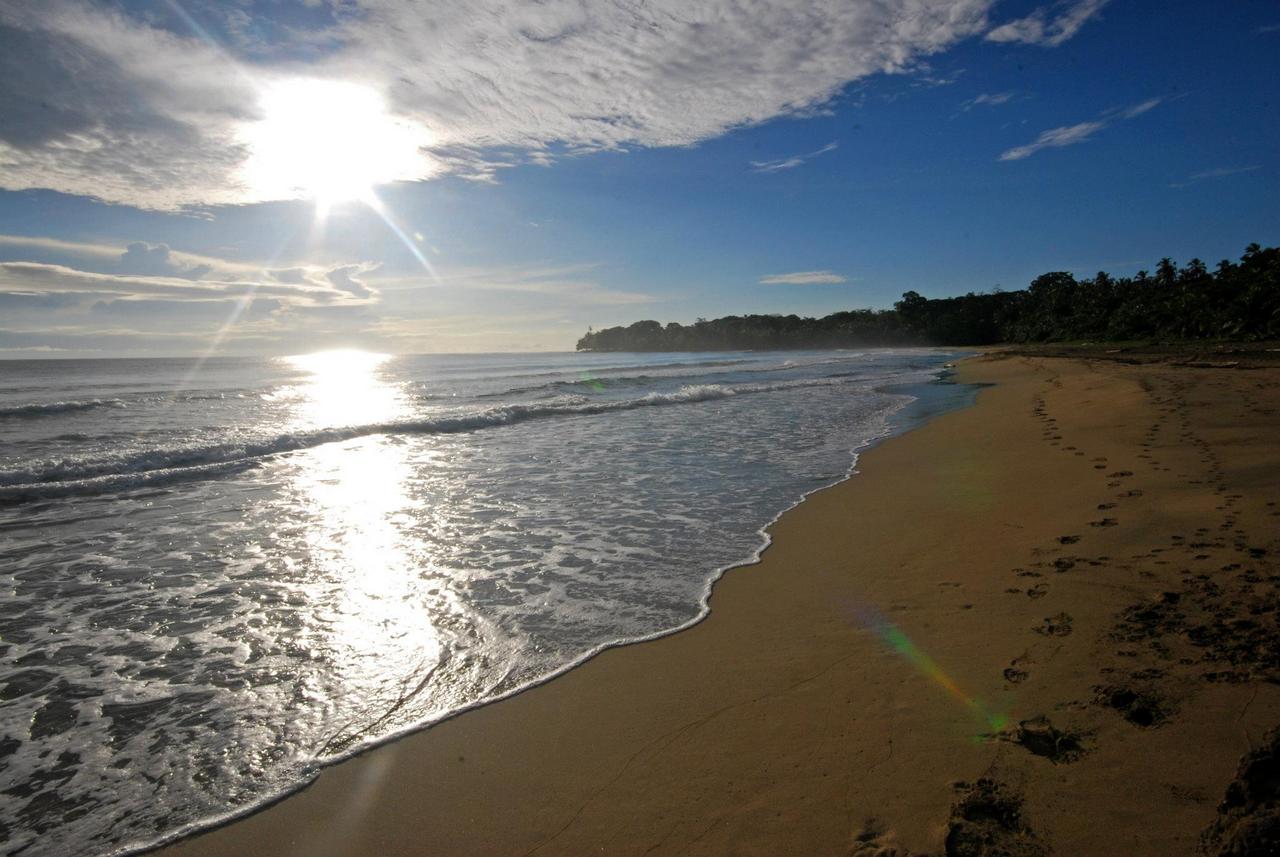 Feel the white sand between your toes, listen to the waves
Esa página está disponible también en español.
The uncrowded Playa Chiquita is located about 6 km south of downtown Puerto Viejo on the coastal road. It is a favorite for those who want to relax on the fine sand and in the beautiful waters surrounded only by nature. It is really several small bays so you may be able to find your own small beach with no one else in sight. As well, there is no road to access to the beach so the short walk down one of several trails to the beach also provides privacy. There's a nice trail to the beach just past Hotel Shawandha for example.
There is no central commercial area but there is a smattering of restaurants and services along the main road including a gourmet supermarket. There are also a wide variety of hotels and vacation homes. For supplies beyond groceries you'll need to head into Puerto Viejo. Transport options between Playa Chiquita and Puerto Viejo include the local bus (running hourly or less during daylight hours), bicycle (most hotels rent bicycles), taxi and car. Check the local transport page for more details.
Sort by: Category | Recommended | Alphabetic

Puerto Viejo Top Picks
Six luxury villas offering privacy with its own private garden. Located just a short walk from the pristine Playa Chiquita, in close proximity to bike hire, shops & restaurants. Nestled within a serene jungle landscape, the villas come with a fully equipped kitchen and are self contained; cook your favourite meal while looking into your own private garden. They have queen sized beds with custom mosquito netting, the windows are fitted with bug-proof screening, high ceilings, fans, hand crafted furniture and local art.


+506 2759 9340 (English)


see reviews on TripAdvisor


Average room rate: $75


View on map
See full details
Jungle lodge with tropical contemporary architecture located in Playa Chiquita, a few steps to the beach. Accommodation options are double or triple rooms, bungalows for 2 up to 8 people, a family apartment with 2 bedrooms for up to 6 people and an apartment suite with kitchen available for honeymoons/couples or family up to 4 persons. Services include free breakfast, swimming-pool, bar, free wifi, parking, laundry, desk for tours and transportation.


+506 2750 0653


see reviews on TripAdvisor


Average room rate: $80


View on map
See full details
Recommended
A community space dedicated to creativity and learning, a space where individuals may experience hands on exploration and deep creative process. It is a place where families are empowered to co-create. Open to all people, they offer workshops, classes and gatherings of many types.


View on map
See full details
Centre to rehabilitate mistreated, injured and/or confiscated animals, which are then reintroduced to their natural habitat in protected areas. Visitors have direct contact with monkeys, wild cats, sloths, raccoons, anteaters, marsupials, reptiles, amphibians, etc. You can also observe all the venomous snakes of Costa Rica which are housed in terrariums imitating their natural habitat. By visiting the Jaguar Centre, your donation will go directly to caring for rainforest animals. Guided visits are from Mon to Sat at 09.30 am and 11.30 am. Closed on Sun. Entrance fee: US$20 (Colones 11,000).


+506 2750 0710


see reviews on TripAdvisor


View on map
See full details
Additional comments from our visitors about Playa Chiquita
Add your comment or question