Want to live in Paradise? These people can help you find your dream home.
Esa página está disponible también en español.
As you'll see around you, people from all over the world have settled in Puerto Viejo. Buying real estate in Costa Rica is probably not like at home so let an expert help you find what you need and sort through the paperwork.
Sort by: Type | Area/Neighborhood | Alphabetic
Jump to: Real Estate Agents | Property Developments | Property Management

Real Estate Agents
Representing properties for sale throughout the South Caribbean of Costa Rica. Staff speaks English, Spanish, French, Dutch and Portuguese.


Puerto Viejo


+506 2750-0874


Average rating: 84 Very Good


View on map
Real estate office. Also offering construction, environmental consulting, architecture, insurance and legal services.


Inside Puerto Viejo Shops, Puerto Viejo


+506 2750 0602


Average rating: 80 Very Good


View on map
Full service real estate firm serving clients wishing to buy or sell real estate in the southern Caribbean. Also offers vacation rentals.


Cocles


+506 8997 0624


View on map
Real estate agency for residential and commercial properties. Also offers design help, construction management and assistance with permits. Previously named Puerto Viejo Properties and Investments


Cocles


+506 8883 0945, 8579 8769


Average rating: 100 Exceptional


View on map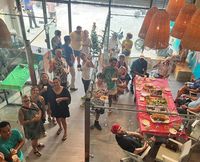 Real estate and property management serving Puerto Viejo & the Caribbean coast. Also the Rise Foundation supporting the community.


Puerto Viejo


+506 8366 7578


Average rating: 100 Exceptional


View on map
Real estate agency with properties for sale and rent and property developer/construction management.


Cocles


+506 8706-3292


View on map
Property Developments
A community of people sharing a vision of eco-sustainable living with nature. Lots with ocean and forest views. 1, 2 and 3 bedroom home-designs to choose from.


Hone Creek


+506 8844 2895


View on map
Naturally secluded, conveniently located. Your own private eco-sanctuary in the up and coming neighborhood of Playa Negra only steps from unspoiled Caribbean beaches and minutes from town. This perfectly located enclave offers secluded splendor and lush tropical landscape with titled lots of 1000 m2 and larger. Financing available.


Playa Negra (Puerto Viejo)


+506 8305 0747,+506 8305 0748


View on map
Property Management Services
Full service Property Management company dedicated to maintaining exceptional care of properties while simultaneously maximizing rental revenue. They work in a sustainable fashion in order to ensure the property is well maintained and cared for on a regular basis while at the same time making a positive impact on our environment and local communities.


Playa Chiquita


+506 2750 0437, 2750 1957


Average rating: 80 Very Good


View on map
Additional comments from our visitors about Puerto Viejo Area Real Estate
Add your comment or question