Your hammock is waiting for you, but how do you get here?
Esa página está disponible también en español.
Options for getting to/from Puerto Viejo from San Jose, Arenal and Bocas del Toro
Getting to the Puerto Viejo area is pretty easy. There are a number of different options for getting here. Most people come here from San Jose so we'll cover those options first:
Public Bus
The bus is the most economical option. Seven daily express buses leave from San Jose.
Shared Ride Van Shuttles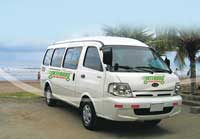 Shared ride van services have door to door service from hotels and major points. They have several daily departures from San Jose, Arenal and Bocas del Toro to Puerto Viejo.
View Shuttle Schedule from San Jose and Arenal
For shuttle transport to/from Bocas view our Bocas transport page.
Private Transfers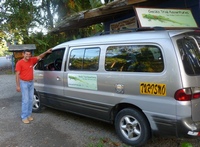 You can also get a private transfer that will take you directly from San Jose Airport or any other location to Puerto Viejo at your schedule.
View private transfer information
Adventure Connections
If you book a Rafting Trip they can pick you up in San Jose and leave you in Puerto Viejo at the end of the day (or vice-versa)! Kind of like getting your transportation for free. It also works to/from Arenal.
Driving
Driving from San José takes 4 to 5 hours (via the faster route) and there are two different routes possible. There is also information there about driving to/from Arenal or Tortuguero.
See our driving and car rental page
Flying
Puerto Viejo has no airport, but it is possible to fly to Limon, about 45 minutes north, where a shuttle will take you to Puerto Viejo.
Bocas del Toro and Tortuguero
If you're coming here from Bocas del Toro or Tortuguero there are specific instructions not covered by the above so we've created some specific information for coming from or going to those destinations:
Bocas del Toro
Bocas del Toro in Panama is just across the border but because of the border and that it is islands some extra instructions are useful.
Transport to/from Bocas del Toro
Tortuguero
Tortuguero is a national park and village on the north side of Costa Rica's Caribbean coast. Because there are no roads in, the trip also takes some extra time and advance planning so please check out our page with detailed instructions.
I have made every attempt to make sure this information is current and correct. But schedules do change as do road conditions and weather so please confirm information if it's important (e.g. you'll miss your flight). Please email info@puertoviejosatellite.com with any corrections or additional information that you think would be helpful.
Additional comments from our visitors about Transportation to Puerto Viejo
Add your comment or question