Calm Protected Waters, Nature Always Close at Hand
Esa página está disponible también en español.
The quiet beach at Punta Uva is known for its calm reef protected water and white sand. This is a great place to bring the kids to swim. It is 8.5 km (about 5 miles) from downtown Puerto Viejo so appeals to those looking for a quieter spot to spend their vacation. Most of the area is located within the Gandoca-Manzanillo Wildlife Refuge so nature viewing opportunities are abundant with monkies, sloths and many types of birds common sights.
The area does have a big variety of hotels and vacation homes, mostly from the midrange up to luxury options. There is a supermarket and a good selection of restaurants. For supplies beyond groceries you'll need to head into Puerto Viejo. Transport options between Punta Uva and Puerto Viejo include the local bus (running hourly or less during daylight hours), bicycle (most hotels rent bicycles), taxi and car. Check the local transport page for more details.
Sort by: Category | Alphabetic

Coffee, Ice Cream, Chocolate and Dessert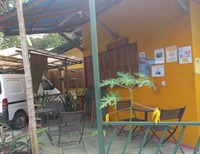 Bakery which makes fresh bread and snacks from all natural ingredients. Breakfast and lunch daily with vegetarian, vegan and fish options. Makes vegan and gluten free baking as well. Offers hostel rooms also.


+506 8595 0626


see reviews on TripAdvisor


View on booking.com


View on map
Property Developments
An Eco-Friendly Residential Development located near beautiful Punta Uva. Lots with land set aside for nature in an eco-friendly community of like spirits.


8898-5047, 8828-3646


View on map
Hostels
Affordable accommodation including private rooms with shared bath, dorms and camping area, free wifi.


+506 2750 1999


see reviews on TripAdvisor


Average room rate: $30


View on map
Hostel and lodge offering dormitories, rooms with shared bath or cabins with private bath. Beds with mosquito nets, hot showers. Shared kitchen, dining room, hammocks, wifi, bike and snorkel rental, parking. 5 min walking from Punta Uva beach, set in a tropical rainforest garden.


+506 2750 0147


see reviews on TripAdvisor


View on booking.com


Average room rate: $50


View on map
Hotels
Newly opened hotel at Punta Uva on the beach. Adults-only accommodation with a bar, a garden and a terrace. Rooms with A/C, sea or garden view.


+506 2759 9180


see reviews on TripAdvisor


View on booking.com


Average room rate: $250


View on map
Located within a tropical garden, are these four cabins, with ample terraces, equipped with hot water, fan, refrigerator, etc. There is a Ranchito in front of the beach with kitchen and dining room for use of guests.


+506 2759 9180


see reviews on TripAdvisor


View on booking.com


Average room rate: $120


View on map
Just 250 meters from beautiful Punta Uva Beach, riverside on Rio Ernesto, Pachamama is nestled in the heart of the jungle. Accommodation options are 3 comfortable Villas (for 2 up to 6 people) and 2 jungle Bungalows (up 3 people). All the accommodations are with ceiling fan, mosquito net, hot water, fully equipped kitchen, safe and private terrace with hammocks and adirondacks. Free Services included: WiFi, breakfast served on your private terrace, bicycles, private parking.


+506 2759 9196


see reviews on TripAdvisor


View on booking.com


Average room rate: $110


View on map
Supermarkets and Other Groceries
Local store for the area. Serves locals and tourists. Groceries, beer, wine, fruits and veggies, meat, souvenirs.


View on map
Tours and Activities
Tour company combining the popular sport of stand-up paddle boarding while exploring the Southern Caribbean and its natural beauty. They offer paddle boarding tours and lessons on the Caribbean Sea and nearby rivers. Lessons, tours down the river or surfing fun point breaks. Located with Punta Uva dive center.


+506 8844 4432, 2759 9191


see reviews on TripAdvisor


View on map
42 Ha (104 acre) tropical rainforest reserve within the Gandoca Manzanillo National Wildlife Refuge. The purpose of the reserve is conservation to prevent these forests from disappearing with all the biological wealth they contain. The reserve is financed solely from the owner's resources and the revenue generated by visitors and researchers who visit. Offers overnight accommodation as well as tours.


+506 2750 0710


see reviews on TripAdvisor


View on booking.com


View on map
Scuba diving tours, PADI courses and equipment. Open seasonally as reef conditions allow. Located in same office as Green Water SUP Tours. There's also a small cafe for drinks and food.


+506 8844-4432


see reviews on TripAdvisor


View on map
Additional comments from our visitors about Punta Uva
Add your comment or question