The current weather for Puerto Viejo and Cahuita is:
Esa página está disponible también en español.
Today:
Heavy rain

min:

24.5° C


max:

31.1° C

95%

chance of rain


29.9 mm

precip forecast

Tomorrow:
Moderate rain

min:

25.5° C


max:

29.7° C

89%

chance of rain


9.8 mm

precip forecast

Tuesday:
Moderate rain

min:

24.9° C


max:

30.6° C

88%

chance of rain


16 mm

precip forecast

Last updated on June 4, 12:30 PM CST
Note that weather here changes frequently — don't worry if it's raining, the sun will be shining soon.
Powered by weatherapi.com
What is the weather generally like?
Contrary to common opinion that it rains all the time on the Caribbean, the South Caribbean Coast is actually one of the driest places in Costa Rica when you look at total rainfall over the year - check this chart to see a comparison of the different areas of Costa Rica.
The difference is that on this side, it is more spread out over the year. Also note that most rain comes at night and days clear by early-late morning. The weather charts below will give you a general idea of the patterns but it's still a crap shoot. And most time, when it rains, it may be short, but a dump an amount of water you might have never seen before. It can be very magical.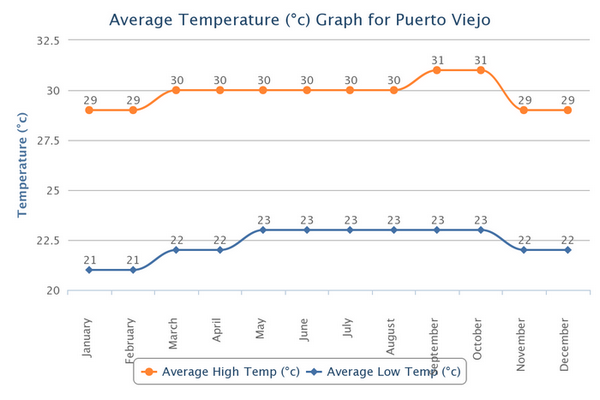 As you can see the average temperature varies hardly at all different times of year. Rainfall does vary a little. The chart makes it look like it's raining all the time but while there is some rainfall most days as you can see it often comes either in the middle of the night or a quick shower in the afternoon and then it's sunny again. The most consistently dry months are September and October which just happen to be the wettest on the Pacific with pretty much constant rain there. So if you're planning a Costa Rica trip in the fall keep that in mind!
Charts are courtesy of WorldWeatherOnline.com. Check that site for more information and to compare to other destinations in Costa Rica. One resident of Playa Negra has been dilligently collecting monthly rainfall on her own charts and her numbers correspond quite closely to those ones.
Surfing Info and Conditions
The Puerto Viejo area has some great surfing beaches, from beginner to advanced. Costa Rican surf champion Gilbert Brown hails from here! We get a lot of questions about surf conditions for the area.
Puerto Viejo area surf spots:
• Playa Negra is where beginners go to surf and where local instructors can be often be found giving lessons.
• Playa Cocles is a great surfing beach for intermediate to advanced surfers. National championship events are often held on this beach.
• Salsa Brava is the place for more advanced surfers.
• Playa Grande in Manzanillo is also popular for novice surfers and a good spot for lessons. Especially the section between Manzanillo and Punta Uva.
The best waves are found from November to March.
The Tico Times wrote a good article with an overview of the conditions at the different beaches.
CRSurf.com has surf reports for all over the country, check this page for their report on the Caribbean beaches.
Magic Seaweed has information on the latest surf conditions at Salsa Brava.
Additional comments from our visitors about Puerto Viejo Weather
Add your comment or question