The End of the Road
Esa página está disponible también en español.
The village of Manzanillo has long been off the beaten track, even since the paved road arrived in 2003. This is as far as you can go along the coastal road towards Panama. This little town remains a vibrant outpost of Afro-Caribbean culture and has also remained pristine, thanks to the 1985 establishment of the Gandoca-Manzanillo Wildlife Refuge, which includes the village and imposes strict regulations on regional development.
Activities are of a simple nature, in nature: hiking, snorkeling and kayaking are king. (As elsewhere, ask about riptides before heading out.) Other than that, you may find the occasional party at the locally renowned Maxi's bar and restaurant at the end of the road, which is the end of the line (where buses arrive).
To go beyond Manzanillo along the coast you'll need to continue on foot along the path into the refuge (a local guide is strongly recommended, both to see the maximum amount of nature and for security) or head out on a boat. A half day round trip hike will get you to lovely Punta Mona. Further southeast, deep in the reserve, is the village of Gandoca.
Sort by: Category | Alphabetic

Hostels
Manzanillo's only hostel. Offers dorms and private rooms. Shared kitchen free wi-fi, lockers, parking, full service restaurant.


see reviews on TripAdvisor


View on booking.com


Average room rate: $30


View on map
100 acre organic farm, community and center for sustainable living and education located a boat ride or hike south of Manzanillo. They have an office in Puerto Viejo located behind ATEC across the street from Cafe Viejo. The mission at Punta Mona is to expose all people who come to the farm to the ideals of Permaculture and educate about sustainability. They also offer lodging to have overnight visitors for a reasonable rate which includes 3 organic meals, lodging, and use of kayaks.


+506 8321 2788


see reviews on TripAdvisor


Average room rate: $40


View on map
Landmarks, Beaches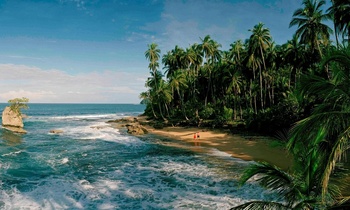 This protected area stretches from Punta Uva east to Manzanillo and beyond South all the way to Gandoca. Many of the hotels and businesses located in these areas are actually within the reserve so operate under restrictions that give priority to the wildlife. The protected area includes lowland rainforest, a wetland, a mangrove swamp and 10 km of beach.


+506 2759 9100


View on map
See full details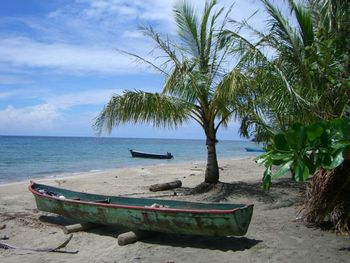 The long beach at Manzanillo stretches from the village south into the reserve. South from the village, a 4x4 or bicycle or walking is recommended on the rough sand road.


View on map
See full details
"Monkey Point" is a nice 1/2 day hike through the remote Gandoca-Manzanillo Refuge from the end of the road in Manzanillo. A guide is strongly recommended.


View on map
See full details
Restaurants
Restaurant with a menu inspired by the Caribbean and influenced by cuisines around the world. Chef Andy Cook grew up on the Talamanca Coast right here in Manzanillo where he grew, harvested, and caught much of the food he and his family cooked at home.


2750 3151, 88437460


see reviews on TripAdvisor


View on map
Small and intimate Argentinian restaurant. For dinner there is a simple menu that changes daily usually with steak, seafood and pasta. At lunch it is called Burger Stop with quicker, simpler fare. Located between Punta Uva and Manzanillo.


+506 2759 9007


see reviews on TripAdvisor


View on map
Traditional Caribbean restaurant that has stood at the end of the road for many years and is still famous for their seafood. There is a full service restaurant and a small quick service option as well.


+506 2759-0673


see reviews on TripAdvisor


View on map
Vacation Rentals
Cozy rooms and various jungle tours. The 4 rooms (2 up, 2 down) are directly across from the jungle and a mere 150 meters from the beach. All include private bathrooms, hot-water showers, good mattresses, mosquito nets, ceiling fans, and balconies. There is a small community kitchen. Also offers different tours like the jungle hike through the Manzanillo-Gandoca Wildlife Refuge, Bird watching, Gandoca lagoon kayak tour, turtle watching, Indian reserve etc with local guide Omar Cook who has worked for 12 years as a trained certified jungle guide. Also known as Casa Namasol.


+506 8932 0030, 2759 9143


see reviews on TripAdvisor


View on booking.com


Average room rate: $65


View on map
Two separate small houses built of beautiful local wood in a tranquil beachfront location in Manzanillo. Casa 1 is equipped with a double bed and 2 single beds catering to 4 people and Casa 2 has two double beds and a single bed with a maximum of 5 people. Each casita has a kitchen, hot water shower and balcony with chairs and hammocks.


+506 5017 8099


see reviews on TripAdvisor


View on booking.com


Average room rate: $85


View on map
Eight beautiful beach nature houses for rent. On the 15 acre property they have flowers, fruit and giant rainforest trees. There is a private walkway to the quiet, unspoiled beach, featuring the beautiful blue Caribbean Sea.


+506 2759 9016


see reviews on TripAdvisor


Average room rate: $165


View on map
El Árbol (the tree) is a vacation house & jungle villa rental. Fascinating jungle experience in the Caribbean rainforest of Costa Rica. This lodge on 16+ acres of private property is situated in the wildlife refuge, with the beautiful Caribbean sea only about a kilometer away. You will stay in one of the luxurious, fully equipped houses on stilts. Experience the jungle like never before. Have the monkeys waiting outside your window as you wake up to the sounds of tropical birds singing. There are sloths, nosebears, other mammals, frogs, and so much more.


+506 8721 3949


see reviews on TripAdvisor


Average room rate: $150


View on map
Open air modern home located on a quiet road in Manzanillo, walking distance to the beach, restaurants and supermarkets. The house has 2 bedrooms and a loft upstairs, the master bedroom with a queen size bed, private, open air bathroom with a 2 person jacuzzi tub, as well as a cozy terrace with hammock. The second bedroom accommodates one child and includes a single bed, and the loft accommodates the fourth person or two on a sofa bed. Downstairs is the living room, fully equipped kitchen with dishwasher, laundry and the deck.


+506 8628 2663


see reviews on TripAdvisor


View on booking.com


Average room rate: $150


View on map
Two comfortable and contemporary Caribbean style jungle houses, Casa Luka and Casa Rio. Both with two bedrooms, fully equipped kitchen, bath with hot water, parking, safe. Each house is suitable for 2 to 4 people and is located just 300 meters from the colorful village of Manzanillo and its white sandy beach.


+506 8315 7245


see reviews on TripAdvisor


Average room rate: $110


View on map
Modern house is located in the jungle but only 5 min away from the ocean. 3 spacious bedrooms with 3.5 bathrooms, fully equipped open kitchen in a luminous living room. Accommodates up to 9 people.


View on booking.com


Average room rate: $200


View on map
Luxury 2 and 3 bedroom vacation homes on a private property with swimming pool, tropical gardens, relaxation areas and grills. Each house is fully equipped with ensuite baths, well equipped kitchens, wifi.


+506 8795-7555


View on booking.com


Average room rate: $120


View on map
Additional comments from our visitors about Manzanillo
Add your comment or question