Wherever you'd like to stay, Puerto Viejo, Cahuita, Cocles, Punta Uva, Manzanillo, Chiquita or elsewhere there' s something for you!
Esa página está disponible también en español.
Accommodation options in the Puerto Viejo area range from the most basic, a dorm or hammock hotel, to luxurious fully outfitted homes and everything in-between. Below you will find a list of hotels.
Go to: Hotels | Hostels | Vacation Rentals
Sort by: Area/Neighborhood | Alphabetic | Average room rate low to high | Average room rate high to low | Rating

Playa Negra (Puerto Viejo)
Punta Uva
Hotel at Punta Uva on the beach. Adults-only accommodation with a bar, a garden and a terrace. Rooms with A/C, sea or garden view. They also rent self catering bungalows next door at the property which used to be called Punta Uva Cabinas.


+506 2759 9180


View on booking.com


Average room rate: $250


Average rating: 95 Exceptional


View on map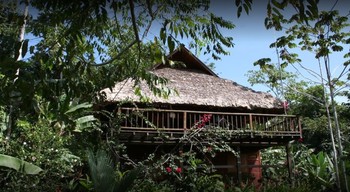 42 Ha (104 acre) tropical rainforest reserve within the Gandoca Manzanillo National Wildlife Refuge associated with the Jaguar Rescue Centre. The purpose of the reserve is conservation to prevent these forests from disappearing with all the biological wealth they contain and to provide a place for the reintroduction of animals rehabilitated at the JRC. No longer offers tours but does offer overnight accommodation at La Ceiba House and Ilan Ilan House.


+506 2750 0710


View on booking.com


Average room rate: $100


Average rating: 99 Exceptional


View on map
In a jungle setting alongside Rio Ernesto, 250 meters from Punta Uva Beach. Accommodation options are 3 comfortable villas (for 2 up to 6 people) and 2 bungalows (up 3 people). All the accommodations are with ceiling fan, mosquito net, hot water, fully equipped kitchen, safe and private terrace with hammocks and adirondacks. Wifi, bicycles, parking.


+506 2759 9196


View on booking.com


Average room rate: $110


Average rating: 89 Excellent


View on map
Bribri
Hotel with clean simple cabinas


+506 8996 2637


Average rating: 92 Excellent


View on map
Sixaola
Basic lodging if you're stuck in Sixaola after the border has closed.


+506 8622 3931


Average rating: 86 Very Good


View on map
Additional comments from our visitors about Hotels in Puerto Viejo and Area
Add your comment or question