Miles of Black Sand Beach to Explore
Esa página está disponible también en español.
Playa Negra is a black sand beach which stretches more than 10km from the west entrance of Puerto Viejo town all the way northeast to Cahuita National Park. The beach is well suited to beginning surfers at the west end near town (where you'll find the overgrown barge). Traveling further north it becomes a very quiet beach especially once the highway goes inland and you may indeed have it to yourself, or perhaps share it with a few wild horses! Do ask about local surf conditions before swimming, there can be strong waves and/or riptides at some times of year.
North of the highway turn off the area tends to be mostly residential with hotels catering to a quieter stay and many vacation rental options. However there are also some restaurants and some shopping along Playa Negra. Depending on how far north of town you are located it is well suited for cycling or walking into town should you want something that can only be found in Puerto Viejo. Buses also run along the main highway on a regular schedule but not along the smaller roads after the highway turns inland toward Hone Creek. After dark, a taxi is recommended between town and Playa Negra hotels. Check the local transport page for more details.
Further north towards Cahuita National Park even the small 4x4 track ends and it becomes very remote. Walking here by yourself or trying to walk to the national park is not recommended for security reasons. Please refer to the safety page for more information.
Sort by: Category | Alphabetic
Jump to: Hotels | Vacation Rentals | Community | Police/Ambulance/Fire | Hardware | Restaurants | Bars | Supermarkets | Tours | Travel Agencies | Miscellaneous Shopping

Bars
Beachfront bar in Playa Negra. Beer and cocktails.


Average rating: 90 Excellent


View on map
Micro-craft brewery dedicated to making handcrafted all-grain fine ales. Restaurant.


+506 2750 0690


Average rating: 78 Good


View on map
Restaurants
Restaurant, bar and beach club. Beach service starts at 6am daily. This popular restaurant also serves breakfast, lunch and dinner 7 days a week. Breakfast is included for hotel guests but others are welcome for a fee. They offer free access to high-speed fiber optic internet connection for customers.


+506 2750-2035


Average rating: 89 Excellent


View on map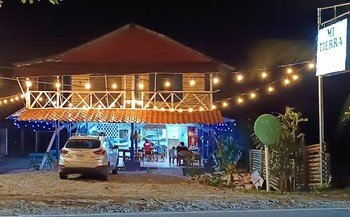 Restaurant specializing in authentic Costa Rican food.


+506 2750 2111


Average rating: 86 Very Good


View on map
Hardware, Building Supplies, Nurseries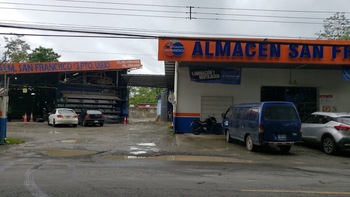 Hardware store and building materials retailer.


+506 2756 8478


Average rating: 84 Very Good


View on map
Miscellaneous shopping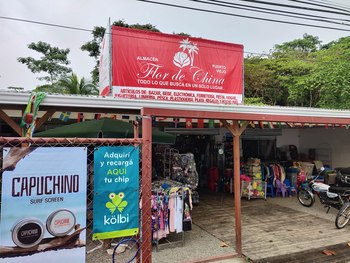 Offers a variety of housewares, baby supplies, electronics, games, gifts, beach supplies


Average rating: 86 Very Good


View on map
Supermarkets and Other Groceries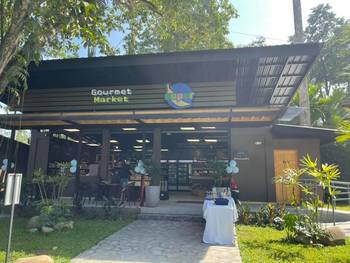 Gourmet grocery store. Groceries, fresh produce, beer and wine, coffee, takeaway meals.


Average rating: 100 Exceptional


View on map
New larger modern supermarket where the old pulperia was.


+506 2750 0392


Average rating: 98 Exceptional


View on map
Tours and Activities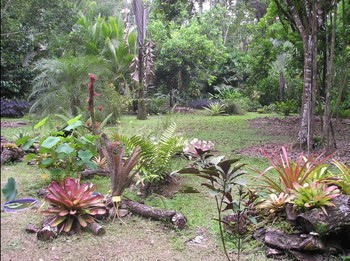 See frogs, birds & flowers. Smell tropical flora and spices. Taste natural chocolate & fruits in a nature park setting. Garden has been in cultivation for more than 20 years.


+506 8829 4229


Average rating: 89 Excellent


View on map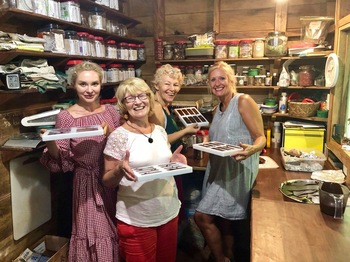 Learn the entire process from tree to bar, making chocolate from scratch: roasting, grinding, tempering then molding. With tasting all along the way. There will be lots to learn and taste, from flavour development to label design, this is a full experience.


+506 8910 9318


Average rating: 100 Exceptional


View on map
Travel Agencies: Tour Sales, Transport, Hotel Reservations
Full service in-country travel assistance provider based in Puerto Viejo with a satellite provider in the capital San Jose offering trips to exciting destinations all over Costa Rica. Their goal is to offer the best possible vacation experience to all clients, including the LGBT community. Whether their clients are looking for tours, transports, hotels or full multi day vacation packages they are there to assist them every step of the way.


+506 2756 8118


Average rating: 99 Exceptional


View on map
Community Organizations
Non-profit organization that promotes sustainable tourism and businesses in the South Caribbean.


+506 2750 3117


Average rating: 98 Exceptional


View on map
The Bridge provides educational assistance, food assistance, and microloans mainly to indigenous people in the southeastern part of Costa Rica. Our goal is to help people help themselves to self-sufficiency.


+506 8771 9702, US phone: +1 970-389-4327


Average rating: 96 Exceptional


View on map
Police, Ambulance, Fire
The police in Costa Rica are responsible for enforcing the peace and responding to active crimes. The OIJ with taking crime reports and investigating. See the safety page for more information. Call 911 in an emergency.


+506 2750 0230


View on map
Additional comments from our visitors about Playa Negra
Add your comment or question