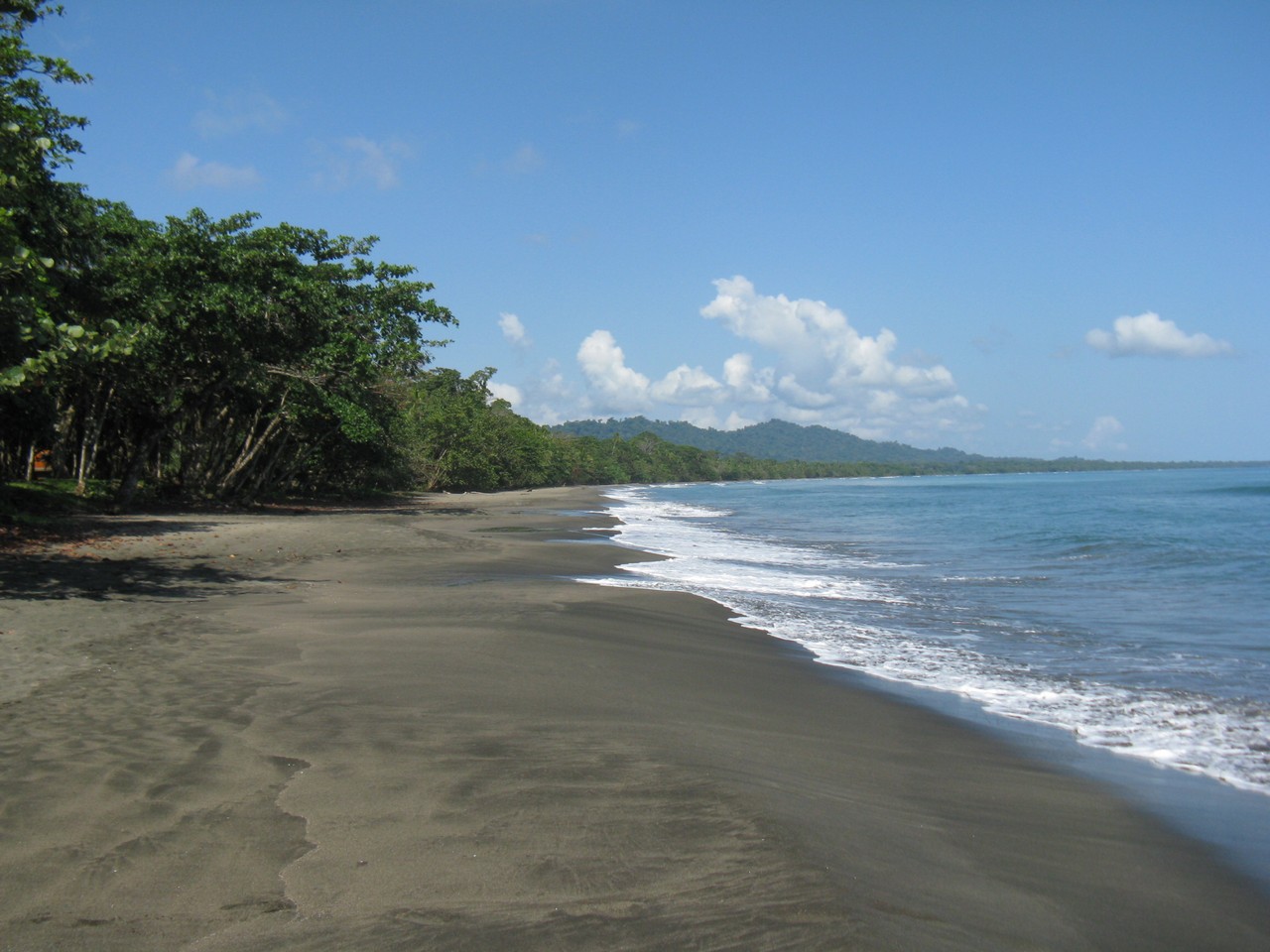 Miles of Black Sand Beach to Explore
Esa página está disponible también en español.
Playa Negra is a black sand beach which stretches more than 10km from the west entrance of Puerto Viejo town all the way northeast to Cahuita National Park. The beach is well suited to beginning surfers at the west end near town (where you'll find the overgrown barge). Traveling further north it becomes a very quiet beach especially once the highway goes inland and you may indeed have it to yourself, or perhaps share it with a few wild horses! Do ask about local surf conditions before swimming, there can be strong waves and/or riptides at some times of year.
North of the highway turn off the area tends to be mostly residential with hotels catering to a quieter stay and many vacation rental options. However there are also some restaurants and some shopping along Playa Negra. Depending on how far north of town you are located it is well suited for cycling or walking into town should you want something that can only be found in Puerto Viejo. Buses also run along the main highway on a regular schedule but not along the smaller roads after the highway turns inland toward Hone Creek. After dark, a taxi is recommended between town and Playa Negra hotels. Check the local transport page for more details.
Further north towards Cahuita National Park even the small 4x4 track ends and it becomes very remote. Walking here by yourself or trying to walk to the national park is not recommended for security reasons. Please refer to the safety page for more information.
Sort by: Category | Recommended | Alphabetic

Community Organizations
Non-profit organization that promotes sustainable tourism and businesses in the South Caribbean.


+506 2750 3117


View on map
See full details
The Bridge provides educational assistance, food assistance, and microloans mainly to indigenous people in the southeastern part of Costa Rica. Our goal is to help people help themselves to self-sufficiency.


+506 2750-0524


View on map
See full details
Police and Medical Services
The police in Costa Rica are responsible for enforcing the peace and responding to active crimes. The OIJ with taking crime reports and investigating. See the safety page for more information.


2750-0230


View on map
Hardware, Building Supplies, Nurseries
Hardware store and building materials retailer.


+506 2756 8478


View on map
Nursery with local plants specializing in bromeliads


+506 8871-5517


View on map
Hostels
Pizza restaurant, hostel and cabinas. Hostel above the restaurant with big oceanfront terrace. 3 rooms which sleep 14 people; 6 bunk beds and 1 double bed. There is free WIFI, a bathroom, coffeemaker, tv and guests can use a downstairs cooking area. Also there are Four separate Cabinas for 1-3 persons each with a private bathroom, fan, mosquito netting, fresh linen and towels, a small sitting area in front from which you can see the ocean and WIFI.


2750 2111 / 7030 8966


see reviews on Tripadvisor


Average room rate: $33


View on map
Hotels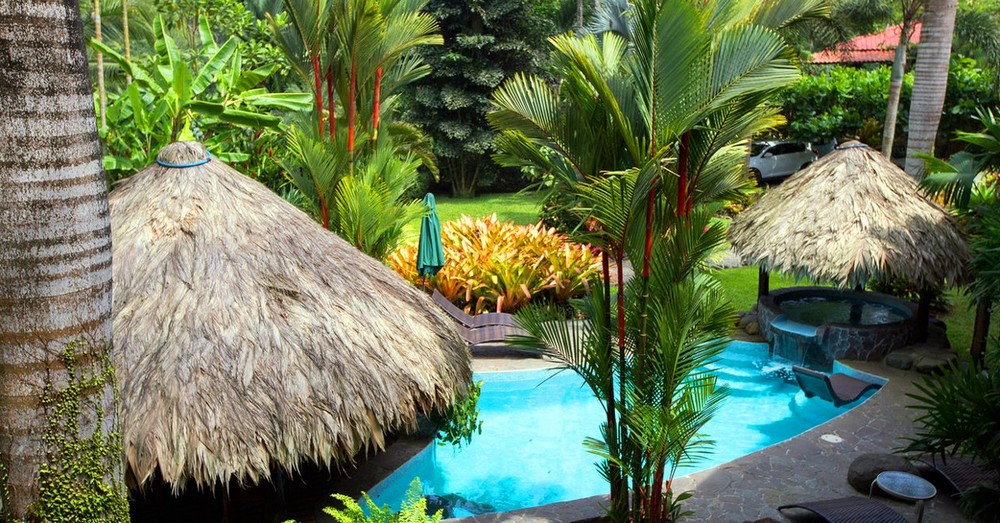 Tropical Beachfront Boutique Hotel with 14 rooms Located on the quiet sandy beach of Playa Negra. Banana Azul is limited to adults over age of 16 and offers restaurant, bar, pool and tour kiosk. Beach views, tropical gardens, comfortable rooms & friendly staff make for memorable vacations.


+506 2750-2035 / 1-877-284-5116


see reviews on Tripadvisor


View on booking.com


Average room rate: $100


View on map
See full details
Small hotel managed by and located next door to Hotel Banana Azul. The property consists of a beachfront apartment on the main floor, two cabinas with ocean view balconies on the second floor, and a small standalone cabina also with ocean view. All units have private bathrooms, ceiling fans, WiFi and a shared garden/patio area. The apartment is suitable for up to four people and features two bedrooms, one bathroom and a fully equipped kitchen. All the guests from Casa Las Brisas receive the same services and facilities as Hotel Banana Azul guests.


+506 2750-2035


see reviews on Tripadvisor


Average room rate: $79


View on map
See full details
Based in the lush tropical rainforest along the beach, inspired by seafaring Vikings and the colors of the Caribbean, Guesthouse Casa Vikingo is a brand new option for visitors to Puerto Viejo. A delightful retreat with a sparkling pool in lovely jungle surroundings, with easy access to restaurants, adventurous excursions, and that unpolished pearl, Puerto Viejo. Offering rooms and fully equipped apartments.


+506 8346 6191


see reviews on Tripadvisor


View on booking.com


Average room rate: $60


View on map
See full details
A small bungalow resort nestled in the jungle where you can relax, recharge your batteries and fully immerse in nature. Located 1 km from the multi-ethnic and vibrant town of Puerto Viejo and only 300 meters from the spectacular beaches of Playa Negra where you can enjoy the virgin coast in its natural state and where the surf breaks every day! All bungalows have a porch with garden views, a private bathroom including free toiletries and each bedroom is equipped with a fan and a mosquito net over the bed. Larger bungalows are equipped with a full kitchen with stove, fridge and kitchenware as well as a dining area. The smaller bungalow has a fridge in the room but it does not have a kitchen or dining area.


+506 8343 7810


see reviews on Tripadvisor


View on booking.com


Average room rate: $60


View on map
See full details
Offering four cozy Cabinas. Two with fully equipped kitchen A very relaxing atmosphere in a tropical garden with hammocks. All the rooms have there own private bathroom, hot water, fan, safety box, cable tv, wifi. Conveniently located a couple minutes walk to Playa Negra.


+506 2756 8476


see reviews on Tripadvisor


View on booking.com


Average room rate: $40


View on map
Luxury cabinas, a great pool, private parking, playground for children, all surrounded by tropical gardens, lagoons, and a small river. Located only 250m from the beach and 750m from Puerto Viejo center.


+506 2750 0170


see reviews on Tripadvisor


Average room rate: $90


View on map
Small guest house in a four bedroom cottage, nestled in the jungle yet only 3 minutes from the beach and 5 minutes from Puerto Viejo. Bright, open and airy, with big windows everywhere, you're encompassed and embraced by the tropical forest in every room. You'll see sloths in the trees outside your window, along with iguanas, toucans and a variety of colorful birds. The sound of the ocean waves will lull you to sleep at night and the surrounding tranquility will dissipate every bit of stress. Backpacker prices but for the discerning traveler.


+506 8310 5061


see reviews on Tripadvisor


Average room rate: $38


View on map
Cozy Beachfront Cabinas all with private bath just 1 mile from town.


see reviews on Tripadvisor


View on booking.com


Average room rate: $75


View on map
Rustic beachfront hotel. Accommodations include 2 double beds, private bathroom, ceiling fan, free WiFi internet, and breakfast buffet.


+506 2750-0111


see reviews on Tripadvisor


View on booking.com


Average room rate: $75


View on map
26 room lodge on the Black Beach. Built in the Afro-Caribbean "Rustico" style, the hotel is artistic and unique. Variety of rooms from shared bath to suites to cabins. Onsite is the BriBri Springs Brewery, a micro-craft brewery dedicated to making handcrafted all-grain fine ales.


+506 2750-0690, (US) +1 802-489-0217


see reviews on Tripadvisor


View on booking.com


Average room rate: $40


View on map
Hotels - Puerto Viejo
Located in Black Beach 1 km before Puerto Viejo downtown near to the beach. Villas from 2 to 6 people totally equipped with kitchen, fridge, coffee maker, microwave, cable TV, fan. Pool, free wireless, green areas, parking, supermarket, laundry Service, bikes for rent, tour information.


2756 8327


see reviews on Tripadvisor


View on booking.com


View on map
Spas, Hair, Massage, Yoga
Tup and Ro offer Massage, Yoga, Shamanic rites, Belvaspata healing and Tarot reading.


8301-2991


View on map
Real Estate
Los Cielos community offers 1 acre buildable parcels with road and electricity to the property. We can assist you with further improvement of your property.


View on map
Specializing in real estate in and around the Southern Caribbean coast of Costa Rica. Committed to protecting and preserving our natural surroundings.


2750-0690


View on map
Naturally secluded, conveniently located. Your own private eco-sanctuary in the up and coming neighborhood of Playa Negra only steps from unspoiled Caribbean beaches and minutes from town. This perfectly located enclave offers secluded splendor and lush tropical landscape with titled lots of 1000 m2 and larger. Financing available.


8305 0747, 8305 0748


View on map
Restaurants & Bars
Open for Breakfast, Lunch & Dinner and drinks overlooking the beautiful beaches of Playa Negra. Enjoy your lunch or drinks in the restaurant or take in the view on the beach while the beachside servers attend you. Serving from 7am to 9pm daily.


+506 2750-2035


see reviews on Tripadvisor


View on map
See full details
The Original Sports Bar in Puerto Viejo that offers all major sports TV packages so you can watch your favorite sports action happen on 6 televisions and one huge projector. There is a beautiful Caribbean beach front view as well. The bar offers 3 Costa Rican Microbrews on tap, as well as favorite bottled beer choices, and premium liquors. The restaurant menu provides American food and Caribbean dishes daily and features specials throughout the week.


2756 8491


see reviews on Tripadvisor


View on map
Supermarkets and Other Groceries
Small grocery store, locally known as Jeffrey's after the owner.


View on map
Tours and Activities

Full service in-country travel assistance provider based in Puerto Viejo with a satellite provider in the capital San Jose with plans to open in other exciting destinations all over Costa Rica. Their goal is to offer the best possible vacation experience to all clients, including the LGBT community. Whether their clients are looking for tours, transports, hotels or full multi day vacation packages they are there to assist them every step of the way.


+506 2756 8118


View on map
See full details
Chocolate Tour and Caribbean & Indigenous Chocolate Museum & Factory: Old cacao plantations, machines and objects, photographs and cacao history. Indian style, organic chocolate factory. Botanical Gardens, Boat tour down the Carbon River.Restaurant and swimming pool facilities.


+506 2756 8186 / 8875 3924


see reviews on Tripadvisor


View on map
See frogs, birds & flowers. Smell tropical flora and spices. Taste natural chocolate & fruits in a nature park setting. Garden has been in cultivation for more than 20 years.


+506 8829 4229


see reviews on Tripadvisor


View on map
Additional comments from our visitors about Playa Negra
Write a review