A Surfer's Paradise
Esa página está disponible también en español.
Cocles is the first community south of Puerto Viejo and it north of Playa Chiquita. It is one of the most well developed. The beautiful beach is very popular with surfers, especially at the northern end, and also for swimmers. The beach is patrolled by lifeguards via the community supported Guardavidas del Caribe Sur.
There's a big variety of businesses located at Cocles, including basic hostel type accommodation up to luxury hotels and rental homes. There are also many restaurants and services although it is just a few minutes by bicycle to Puerto Viejo should you need something more than is on offer here.
Sort by: Category | Alphabetic

Real Estate Agents
Full service real estate firm serving clients wishing to buy or sell real estate in the southern Caribbean. Also offers vacation rentals.


+506 8997 0624


View on map
Real estate agency for residential and commercial properties. Also offers design help, construction management and assistance with permits. Previously named Puerto Viejo Properties and Investments


+506 8883 0945, 8579 8769


View on map
Real estate agency with properties for sale and rent and property developer/construction management.


+506 8706-3292


View on map
Coffee, Ice Cream, Chocolate and Dessert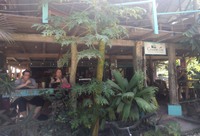 Coffee house, chocolate factory and tasting room. Smoothies and light meals too. Offers the Chocolate Forest Experience Tour where you can see the chocolate making experience from the cacao forest to the finished product. Also regular community events and learning opportunities from yoga to film nights.


+506 2750-0504, 8341-2034


Average rating: 96 Exceptional


View on map
Hardware, Building Supplies, Nurseries
Hardware and building supplies


+506 2750-2102


Average rating: 84 Very Good


View on map
Supermarkets and Other Groceries
Tours and Activities
Guided horseback riding tours. More than 30 years of professional experience. The healthy and sweet horses were rescued and now they live a second life surrounded by love and attention. Provides full service high quality rides, with all the safety possible, on the beach, in the jungle or both, with a professional local guide. Adults and Children, all levels are welcome. English, Spanish, Italian, Polish spoken.


+506 8705 4250


Average rating: 98 Exceptional


View on map
Food forest, organic gardens, tours & farm to table ecolodge. Also rents cabins.


+506 8390-8348


View on booking.com


Average rating: 100 Exceptional


View on map
Police, Medical and Wellness Services
New office of the tourist police (opened fall 2013) with officers specialized to assist tourists. Look for the officers in their white shirts patrolling the area. Call 911 in an emergency.


+506 2750 0452


View on map
Spas, Hair, Massage, Yoga
Traditional Caribbean style trensas/braids, corn rows and extensiones/extensions. Also does manicure & pedicure.


+506 8913 3472


View on map
Relaxing and deep tissue massage. Bikini waxing, manicure, pedicure, beauty salon. All natural, local products.


+506 2750 0536, 8887 9417


View on map
Bikes & Scooters - Rentals, Sales, Repairs
Bicycle rentals, repairs and sales. Wide variety from beach cruisers to fancy mountain bikes.


+506 6065 5886


View on map
Surf Lessons and Equipment
Surf company that offers surf lessons, equipment rentals, and surf and SUP tours for everyone, beginners to advanced, ages 3 and up.


+506 8566 9444


Average rating: 93 Excellent


View on map
Shop offering surf and skate gear and clothing. Surf lessons. Bike rentals.


+506 2750 3063


View on map
Additional comments from our visitors about Playa Cocles
Add your comment or question