Shared ride van services operate on a fixed schedule between Puerto Viejo and several points in Costa Rica, Panama and Nicaragua.
Esa página está disponible también en español.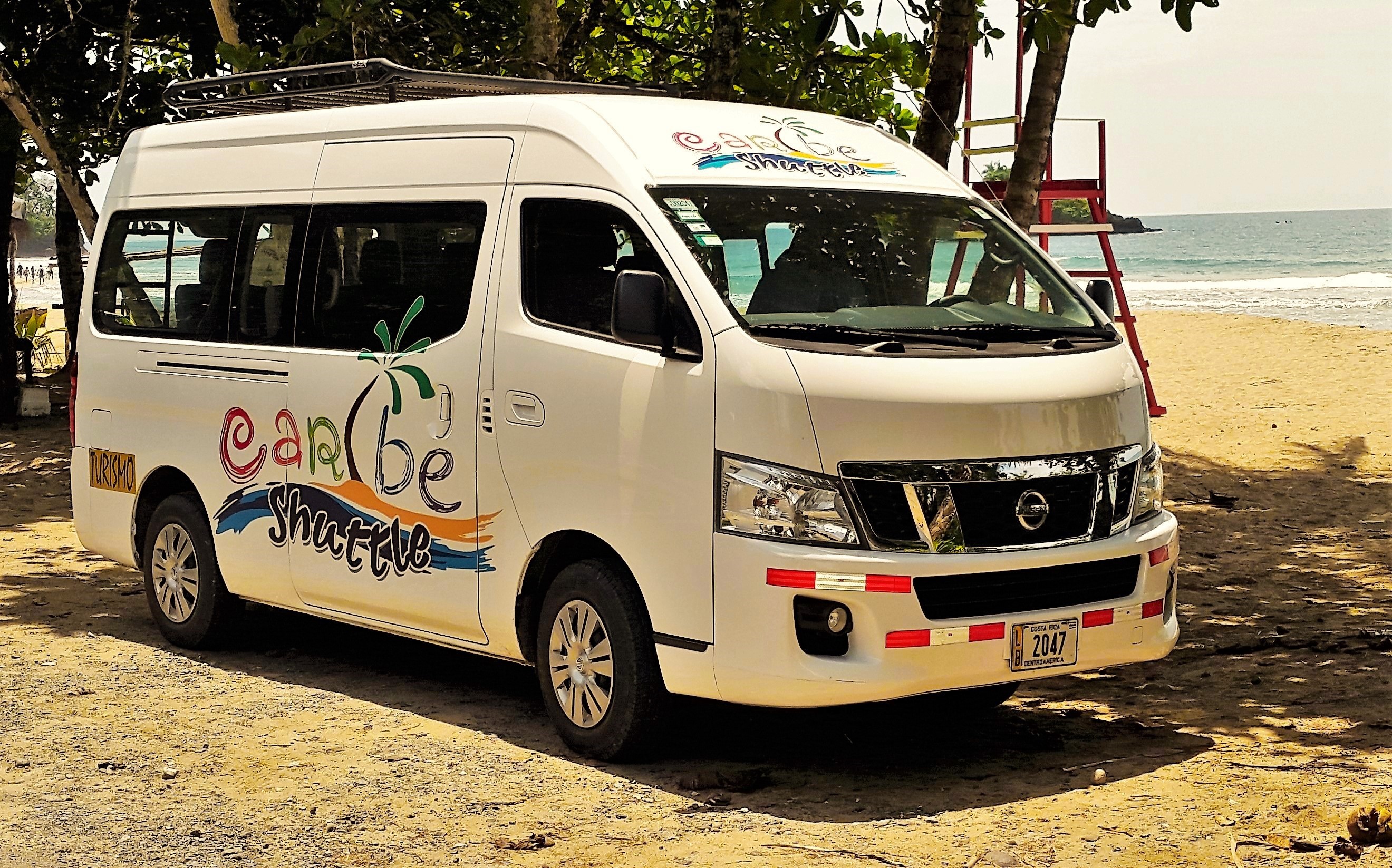 Minibuses to/from San Jose to Puerto Viejo
From $50 US per person (discounted fares are available for children), transport is available in an air-conditioned van or mini-bus from San Jose via several companies. Some services are more reliable than others or make more stops to switch passengers to other shuttles. The trip generally takes 4 to 5 hours, although it can be more especially if you get on at the airport and the shuttle makes many pick ups at around San Jose. From San Jose, Cahuita drop-offs are generallly first (so perhaps a half hour less) and Punta Uva and Manzanillo last (so perhaps 30-45 minutes later).
Caribe Shuttle, Interbus and Airport Express each make daily trips from San Jose to Puerto Viejo and back to San Jose. They will pick you up at your San José hotel or at an off-airport location (right at the airport for Airport Express) and let you off directly at your hotel (almost) anywhere between Cahuita and Manzanillo (e.g. Cocles or Punta Uva).
San Jose to Puerto Viejo
Departs at
Provider
Price
Notes
5:30am
Caribe
Shuttle
$57+tax
1,2,6
Book
7:00am
Interbus

$57+tax
1,3
Book
8:30am
MyPinkBus

$50
10,11
Book
2:00pm
Caribe
Shuttle
$57+tax
1,2
Book
2:30pm
Airport
Express
$69+tax
4,5
Book
Notes:
San Jose Airport pickup is at Denny's restaurant which is nearby the airport. You must take a taxi there.
Additional $7 for dropoffs in Punta Uva and Manzanillo.
Departure time shown is from San Jose downtown, airport departure is generally 30-45 minutes earlier.
Airport express service only, no pickups in San Jose which makes this service faster, recommended for flights scheduled to arrive by 1:00 pm.
Picks up at airport restaurant so no taxi to off-airport location is needed.
This service continues to Bocas del Toro, Panama after a 1 hour lunch break in Puerto Viejo.
Airport express service only, no drop offs in San Jose which makes this service faster, recommended for flights scheduled to depart at 1:30 pm or later.
Additional $7 for pickups in Punta Uva and Manzanillo.
This service originates in Bocas del Toro, Panama and picks up passengers in Puerto Viejo at approximately this time. Drop offs at the airport could be as late as 7 PM depending on traffic.
Service runs 6 days a week, no shuttle on Saturdays
This service does not pickup near San Jose Airport, you will need to take a taxi to San José city to catch the shuttle
You must book all shuttle services in advance; some shuttles only run if there are enough passengers booked and others regularly sell out.
Have Gecko Trail make you a shuttle reservation on any provider:

Reserve a Shuttle

Book now on the full national network of Caribe Shuttle:
We DO NOT recommend you book directly with Interbus on their website as they make it very difficult/expensive to change or cancel reservations that were made on their website (see their terms here). If you make the reservation through the form on our site instead, you can change/cancel your reservation up to 48 hours in advance.
You can also fly from San José to Limón and book a shuttle from the Limón airport to your hotel. See the Flying to Puerto Viejo page for full details.
Shuttles from Bocas del Toro, Arenal, Tortuguero, San Juan del Sur and other locations to Puerto Viejo
Regular shuttles and boat service operate to/from Bocas del Toro in Panama, see our Bocas del Toro page for detailed info on traveling between Costa Rica and Bocas.
From about $72 US per person, there are also daily shuttles operated by Interbus and Caribe Shuttle between the Arenal Volcano area (La Fortuna is the name of the largest town but they'll deliver to all the area hotels and resorts). The trip takes about 6 hours.
Arenal to Puerto Viejo
Departs at
Provider
Price plus tax
5:30 AM
Rafting

$99
Book
6:00 AM
Interbus

$67
Book
6:00 AM
Caribe
Shuttle
$67
Book
Note we've also included the option of a rafting trip in the schedule above. They will pick you up at your hotel in Puerto Viejo, San Jose or Arenal and drop you at the end of the day in a different city and hotel if you like so you get a day of adventure instead of just a day of transport.
It's also popular to book a package to Arenal which would include transport, hotel and tours too if you like.
For getting to/from Tortuguero, most people book a complete package including transport, hotel and tours but if you'd like to go independently see our Tortuguero page for detailed instructions to make your way by bus or rental car to one of the locations where boats leave for Tortuguero or booking transportation only.
Caribe Shuttle also operates a shuttle from San Juan del Sur in Nicaragua into Costa Rica. At the moment they don't offer shuttles which connect with the ones to Puerto Viejo; they only operate shuttles from San Juan del Sur to Liberia and Liberia to San Juan del Sur so you'd need to book onward transport from Liberia to Puerto Viejo.
Private Van/Bus Transfer
If your schedule doesn't work with the shared ride van services schedules or you have 2 or more people or lots of luggage or animals to transport, you might consider hiring a van or bus with driver for a private transfer to Puerto Viejo or to anywhere in the country. The companies we use are very reliable and will pick you up right at the International Airport and bring you straight to your hotel - no stops for other passengers, no waiting for the scheduled time.
And it's affordable: San Jose to Puerto Viejo is about $225-$260 for couples or small families. Larger vehicles are available for larger groups too. When you compare that to a night in San Jose you didn't really want plus regular transfer service per person rates, you'll find it a great deal. The vehicles are air-conditioned and comfortable.
Our travel partners can book this for you too. You can browse rates for different destinations on the transport planner or go ahead and make a reservation with either of our preferred agency partners: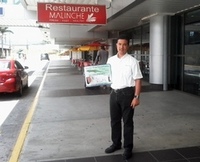 San Jose Airport Pickup
If you're planning to spend a night or two in San Jose before heading to the Caribbean, we can also help you with airport pickup from San Jose International Airport to your San Jose hotel. Wouldn't it be nice to have a friendly face waiting for you in arrivals?!
Click here to make an Airport Pickup reservation
Were you looking for information on flying to Puerto Viejo?
Looking for other transport options?
There are plenty of other ways to get here: public bus, whitewater rafting, driving, flying and more. Check our transport overview page for all the options.