Make your transport an adventure: getting from A to B while having the time of your life!
Esa página está disponible también en español.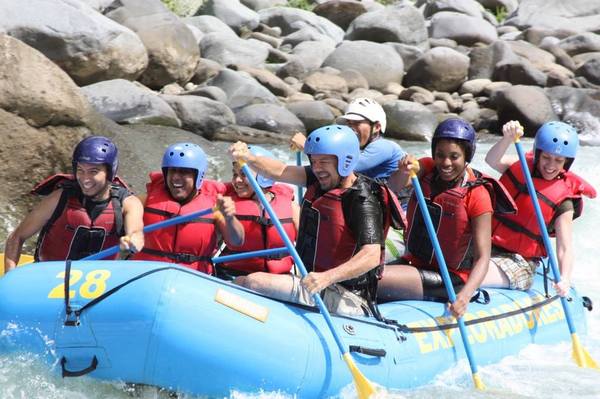 Whitewater Rafting Trips and Other Tours which include point to point transport
These specially designed adventure connection tours allow you to get picked up in one place in the morning, have a day full of adventures and lifelong memories and then get dropped off at your destination at the end of the day.
Getting to Puerto Viejo on the river?
There's some world class rafting on the Caribbean Coast. Your guides will pick you up in the morning in San Jose, Arenal or Puerto Viejo and you'll have a whitewater adventure you'll always remember. Rafting trips are available on the Rio Pacuare or Rio Reventazón. These all day trips are priced from $99.
Lunch is included and breakfast in most options and your luggage is securely stored while you are on the river. At the end of the day you'll be dropped off at your destination hotel in your choice of Puerto Viejo, San Jose or Arenal. So it's kind of like getting your transportation for free! These trips run daily.
You don't really travel any of the distance towards Puerto Viejo on the river. But it feels like you do. The rafting center is located in a convenient location between Puerto Viejo, San José and Arenal so it makes the perfect place to break the trip.
If you'd like more information on the rafting trip options or to have us book one for you, click to:
Get more info or reserve a Pacuare river trip
There is also a two day option for the Pacuare River that includes an overnight in a river lodge
The Pacuare river is the most popular but if you want a somewhat calmer trip, more time for nature and fewer rapids, consider the Carmen Section of the Reventazón River:
Leaving Puerto Viejo via Arenal, Tortugero or Bocas del Toro
Yet another option to get from Puerto Viejo is to book a multi-day package which includes transportation from Puerto Viejo to San Jose or Arenal. These multi-day packages include transport from Puerto Viejo and give you the option of ending your trip in San Jose or Arenal (depending on the package).
For example, the Bocas del Toro, Panama package can include transport back to San Jose or onward to Panama City, the Tortuguero package can end in San Jose or Arenal and the Arenal Volcano package ends in Arenal or Monteverde with onward options to the Pacific Coast or San Jose.
Looking for other transport options?
There are plenty of other ways to get here: public bus, door-to-door shared shuttes, private transfers, driving, flying and more. Check our transport overview page for all the options.