The perfect Costa Rica trip is waiting for you!
Esa página está disponible también en español.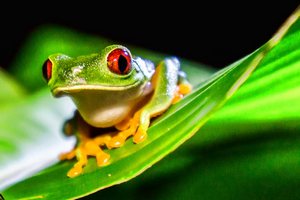 Below you'll find some great itineraries which include your stay in Puerto Viejo as well as other highlights of Costa Rica.
They include all your in-country transportation, hotels and tours so everything is taken care of so you can just enjoy the amazing nature and exciting adventures.
These are not group tours but fully customizable itineraries put together by our travel partners. They can add days, change locations and change hotels and activities to make it the perfect trip for you.
If you've already planned your days in Puerto Viejo and instead just want to add on a few days in another destination such as Arenal & Monteverde, Bocas del Toro or Tortuguero, then check our destination packages page.
Check our tour overview page if you're looking for tours and activities while you're in the South Caribbean.
Browse the package ideas below or click the button to fill out your details in the trip planner and get a custom package made for you by our partners:
Go custom-made, try the Trip Planner
Caribbean Wet & Wild
Experience the best of Costa Rica's Caribbean coast with this 3-night package (there's always an option to add more nights)! This package includes a thrilling whitewater rafting trip down the Pacuare River, Costa Rica's most popular and pristine river for rafting adventure. You can explore the exotic jungle-hugged beaches of Puerto Viejo and choose from a jungle zipline and canopy tour or a snorkel and hiking tour of Cahuita National Park.
Optionally include the undisturbed and magical Tortuguero National Park where you can explore jungle canals and possibly spot sea turtles! If you already have some of your trip planned to Costa Rica and want to add on the Caribbean Coast this is a perfect option! Or pick the Coast to Coast package below to have your whole trip arranged!
Go Wet & Wild!
Volcano, Jungle and Beach
This 4-night / 5-day package includes 2 nights at the Arenal Volcano with plenty of time to relax in some hot springs. You can whitewater raft down the Pacuare River and view nautre in its splendor while navigating class III- IV rapids.
Spend 2 more nights on the rich beaches of the Caribbean in Puerto Viejo or Cahuita. A thrilling jungle zipline and canopy tour or a snorkel and hike tour of Cahuita National Park is included.
Tortuguero and/or Monteverde can also be added to this package and we're happy to arrange your arrival and departure nights in San José too so your whole trip is planned.
Take me to the Volcano & the Beach
This itinerary is a way to discover all the highlights of Costa Rica in one optimally arranged itinerary. The minimum length is 9 days/8 nights or customize it and add additional destinations and/or nights.
Arrival: San Jose (Liberia also possible)
Head to an airport hotel where you can spend the rest of the day by the pool or stay in central San José and explore the city. If you arrive early enough or want to add days in San José there are many additional activities we can add. Some of our recommendations are the Poas Volcano half day tour or the La Paz Waterfalls tour. San Jose is central to many sights so is the perfect place to do many day trips.
Days 2 and 3: Manuel Antonio
The famous Manuel Antonio National Park and its beautiful beaches await you! We'll pick you up at your San José hotel and bring you directly to your Manuel Antonio hotel for a 2 night stay.
The next day we'll pick you up and head out on a sailing and snorkeling tour, one of the best ways to see the area above and below the water! Spend the rest of your day exploring the park, the beautiful beaches or just chill by the pool. You can also add an optional guided tour of the park. This is highly recommended as the guides are great for spotting wild animals.
Optional add-on to Monteverde
Monteverde is famous for its world renowned cloud forest, This high altitude rain forest has plenty of unique flora and fauna lending an almost magical air to those who experience it. We'll pick you up in Manuel Antonio, bring you to your Monteverde hotel for a one-night stay. You can explore on your own or do the highly recommended Sky Trek zipline tour or a hiking tour to the refuge. The next morning you'll travel by van and boat across Lake Arenal to La Fortuna.
Days 4 and 5: Arenal
Take a comfortable minibus shuttle to Arenal where you can spend two nights at a hotel in La Fortuna town or a resort-style hotel closer to the volcano. In the evening we'll pick you up for a night time volcano tour and then to the famous Tabacon Hot Springs and Spa where you can enjoy the many different pools and amenities of the resort. Dinner is served buffet style with an excellent view of the volcano.
The next day choose either a free day to explore the area, head to Lake Arenal or add a half-day tour to the Arenal Waterfall by horseback. If your time is limited or you just want more time at the beach, you can choose to eliminate days 4 and 5 from the itinerary and just do them as a day trip from San Jose on day 2 including Tabacon and the nightime volcano tour.
Day 6: Whitewater Rafting
The rafting company will pick you up early in Arenal for an all-day adventure on Costa Rica's most popular river. You'll get a hearty breakfast at the rafting center where your luggage is securely stored. Then it's a full day river trip with lunch included. At the end of the day, you are transported to Puerto Viejo for a stay at your choice of hotels in Puerto Viejo.
Day 7: Puerto Viejo
The Caribbean coast has a wide variety of gorgeous beaches and fun activities. Perhaps rent a bike and spend the day exploring on your own. Or choose an activity such as the Cahuita National Park Hike and Snorkel tour. The Animal Rescue Center/Chocolate Lady and Waterfall combination tour lets you get close to, and learn about wild cats, monkeys and snakes as well as learn about the process of traditional chocolate making. There are adventure opportunities like ziplining or take a surfing lesson. Or just relax and let us arrange a massage for you!
Optional add-on to Tortuguero
Tortuguero National Park is an isolated area on the north part of the Caribbean coast reachable only by boat or by air. Pure and untouched nature, turtle watching and jungle canals await you. We'll pick you up at your Puerto Viejo hotel, bring you to Tortuguero by mini-bus and boat for a 1 night stay at a lodge. All your meals are included as are tours of the canals and town. Boat and shuttle transport to San Jose on the following afternoon.
Optional add-on to Bocas del Toro, Panama
Your day starts with transportation from Puerto Viejo to Bocas del Toro via shared van and then on by boat to the islands. Accommodation in Bocastown on the main island or a more isolated nature feeling on one of the surrounding islands. Activity possibilities include snorkeling, deepboarding and more. You can return to San José by shuttle or air (as available)
Day 8 and 9: San José and Departure
Morning or afternoon transportation to San Jose by minibus shuttle for a 1 night stay in town or at an airport hotel. Evening on your own to explore. Transport to the airport the next day or stay on in San José and ask about all the other tours and activities available.
Go Coast to Coast!
Caribbean Coast Discoverer
Explore the best the Caribbean has to offer in Costa Rica and Panama! This package will take you from San Jose to Puerto Viejo in the South Caribbean of Costa Rica and then to the archipelago Bocas del Toro in Panama. You will spend 3 (or more) nights in your hotel of choice in Puerto Viejo and 2 (or more) nights in your hotel of choice in Bocas del Toro. And there are so many activities to choose from.
Discover the Caribbean!
Costa Rica and Panama Both Coasts
The Costa Rica – Panama Loop package combines the must-see stops of Costa Rica with the most popular areas of northwest Panama. This carefully designed 14 day or more itinerary caters to those seeking to experience the untouched biodiversity of nature. Soak up the local culture of the inland areas and then wind your way through the Boquete region and coffee valleys of Central America. From the exuberance of the pacific coast to the pristine white sandy beaches of the Caribbean, you'll make memories that are simply unforgettable.
Let's do both Coasts!
Looking for something else?
Our travel partners can design exactly the package you're looking for in any part of Costa Rica as well as highlights of Panama and Nicaruaga. Give us an idea of what you're looking for and we'll go from there.
If you've got part of your trip planned already, the destination packages page is where you'll find packages you can add on to your Puerto Viejo trip such as to Tortuguero, Arenal, Monteverde, Bocas del Toro or Granada, Nicaragua.
Check our tour overview page if you're looking for tours and activities while you're in the South Caribbean.
Additional comments from our visitors about
Add your comment or question