The perfect Costa Rica trip is waiting for you!
Esa página está disponible también en español.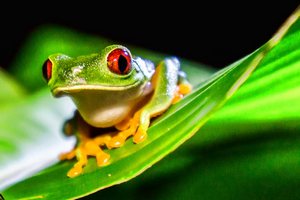 Below you'll find some great itineraries which include your stay in Puerto Viejo as well as other highlights of Costa Rica.
They include all your in-country transportation, hotels and tours so everything is taken care of so you can just enjoy the amazing nature and exciting adventures.
These are not group tours but fully customizable itineraries put together by our travel partner, Gecko Trail Adventures. They can add days, change locations and change hotels and activities to make it the perfect trip for you.
If you've already planned your days in Puerto Viejo and instead just want to add on a few days in another destination such as Arenal & Monteverde, Bocas del Toro or Tortuguero, then check our destination packages page.
Coast to Coast



Take advantage of all the best that Costa Rica has to offer in the jungles, the mountains and the beaches! : 8 nights (or more), including 1 night in San Jose, 2 nights in Manuel Antonio on the Pacific coast with a sailing and snorkeling tour, and 2 nights at the Arenal Volcano with hot springs and plenty of volcano viewing. Whitewater raft down the Pacuare River and enjoy unspoiled nature while navigating exciting class III-IV rapids, followed by 2 nights (or more) in Puerto Viejo soaking up the sun on the jungle-hugged beaches of the Caribbean and 1 more final night in San Jose. Prices from $892 including all taxes and round-trip transportation from San Jose.

You can also add Monteverde and/or Tortuguero to this trip. Or use this as a base itinerary and customize it to make it suit your ideal vacation!

| | | |
| --- | --- | --- |
| 9 days / 8 nights | From 979 USD p/p (double) | More Info |
Costa Rica Full On Adventure



Our Full-On Adventure package is a variation of our Coast-to-Coast package more catered for those seeking lots of active adventure on their vacation. If you don't like to sit still for too long, this is the package for you! We operate this package in cooperation with our business partner Desafio, using their amazing adventure connections, in order to ensure that you get loads of adrenaline pumping activities, including whitewater rafting from one destination to another! All of this while you enjoy the amazing landscapes of Costa Rica — the funky laid-back atmosphere of the Caribbean Sea, the other-worldly Tortuguero Canals, the spectacular Arenal Volcano, the renowned Monteverde Cloud Forest and the long sandy beaches of Samara on the Nicoya Peninsula.

At its narrowest point, Costa Rica is only 122 km (76 miles) wide from the Pacific to the Caribbean but inbetween are some of the the world's most biodiverse landscapes with an incredible variety of animal and plant life, as well as some of the friendliest people you'll meet anywhere!

This package is completely customizable to become a perfect fit for you! It includes quality accommodations in highly recommended hotels and is loaded with activities and adventure.

| | | |
| --- | --- | --- |
| 15 days / 14 nights | From 1499 USD p/p (double) | More Info |
Caribbean Wet & Wild



Our Caribbean Wet & Wild package includes the best of the Caribbean and we can arrange it all for you! This package starts with transportation from San José or Arenal to our whitewater rafting headquarters where a hearty breakfast will prepare you for a full-on day of thrilling rafting adventure! Your luggage will be stored in a securely locked container and lunch is provided on the river shore. You will spend 2 (or more) nights in your hotel of choice (we have many great options to choose from) on the Caribbean coast.

The following day you have 2 options; you can do a jungle zipline and canopy tour or do a snorkel and hiking tour at Cahuita National Park. It is possible to do both tours for an additional cost. Then you will spend 1 night at the Lodge in Tortuguero National Park where you will tour jungle canals and go hiking. Transportation is provided to San José afterwards. 7 meals are included in this package (3 breakfast, 3 lunch and 1 dinner)- some hotels in Puerto Viejo do not include breakfast (please see details).

| | | |
| --- | --- | --- |
| 4 days/3 nights | From 459 USD p/p (double) | More Info |
Volcano, Jungle and Beach




This package included all of our favorite highlights of Costa Rica.
• Round Trip Transportation from your hotel in San Jose (you can also start from any of the Pacific Beach towns such as Manuel Antonio or Jaco)
• 2 nights accommodations at a superior hotel in La Fortuna, near the famous Arenal Volcano
• Nighttime volcano viewing tour and trip to Tabacon Hot Springs Resort for dinner and to enjoy the hot springs pools
• Horseback riding tour to the Arenal waterfall
• All day Whitewater Rafting trip down the Pacuare River
• Transportation to Puerto Viejo or Cahuita
• 2 (or more) nights accommodations at your choice of one of our many great hotel options on the Caribbean Coast
• Canopy tour or Cahuita National Park Boat/Hike/Snorkel tour
• Breakfast daily (most hotels) and lunch the day you are whitewater rafting

You can also add Tortuguero National Park to this package, that's Volcano, Beach, Jungle and Canals! You get everything above plus:
• Transportation by van and boat to Tortuguero
• One night accommodations in Tortuguero
• Two canal tours in the National Park, a guided hike in the National Park and a guided tour of Tortuguero Village
• All meals (buffet style) while you are in Tortuguero
Romance & Adventure



We've specially designed this package to be for your honeymoon or if you and your loved one simply need a romantic getaway. This is also a great tour for two friends who love to be pampered together!

Included in this package is roundtrip transportation from San José or Arenal to Puerto Viejo. You have many great hotel options to choose from on the majestic Caribbean coast. Enjoy a couples massage on side-by-side tables (separate treatment rooms available if you prefer) at Pure Jungle Spa followed by a delectable dinner for two at a local favorite, Stashu's Con Fusion (wine included). You can choose between a Canopy/Zipline tour or the Jaguar Rescue Center/Chocolate Lady/Waterfall combo tour. A guaranteed day of laughs and getting wet will be provided through our whitewater rafting adventure down the Pacuare River (the best rafting river in Costa Rica). This tour includes lunch. After navigating rapids all day transportation will be provided to San José or Arenal. Breakfast is included daily at most hotel options. Optional accommodation in San José or Arenal can be included before or after your Romance Adventure if you'd like.

| | | |
| --- | --- | --- |
| 4 days/3 nights | from 449 USD p/p (double) | More Info |
Caribbean Coast Discoverer

Explore the best the Caribbean has to offer in Costa Rica and Panama! This package will take you from San Jose to Puerto Viejo in the South Caribbean of Costa Rica and to the archipelago Bocas del Toro in Panama.
• Round trip transportation from your hotel in San José
• All day Whitewater Rafting trip down the Pacuare River
• Animal Rescue Center, Chocolate Lady and Waterfall Tour
• Cahuita National Park Hike or Manzanillo Wildlife Refuge Hike
• Cayo Zapatillo Tour
• 3 nights accommodation in your hotel of choice in Puerto Viejo
• 2 nights accommodation in your hotel of choice in Bocas del Toro

6 Days/5 nights
from $659 pp (economy)
from $829 pp (midrange)
from $1408 pp (deluxe)
More Info
Looking for something else?
The destination packages page is where you'll find packages you can add on to your Puerto Viejo trip such as to Tortuguero, Arenal, Monteverde, Bocas del Toro or Granada, Nicaragua.
Check our tour overview page if you're looking for tours and activities while you're in the South Caribbean.
Additional comments from our visitors about
Write a review