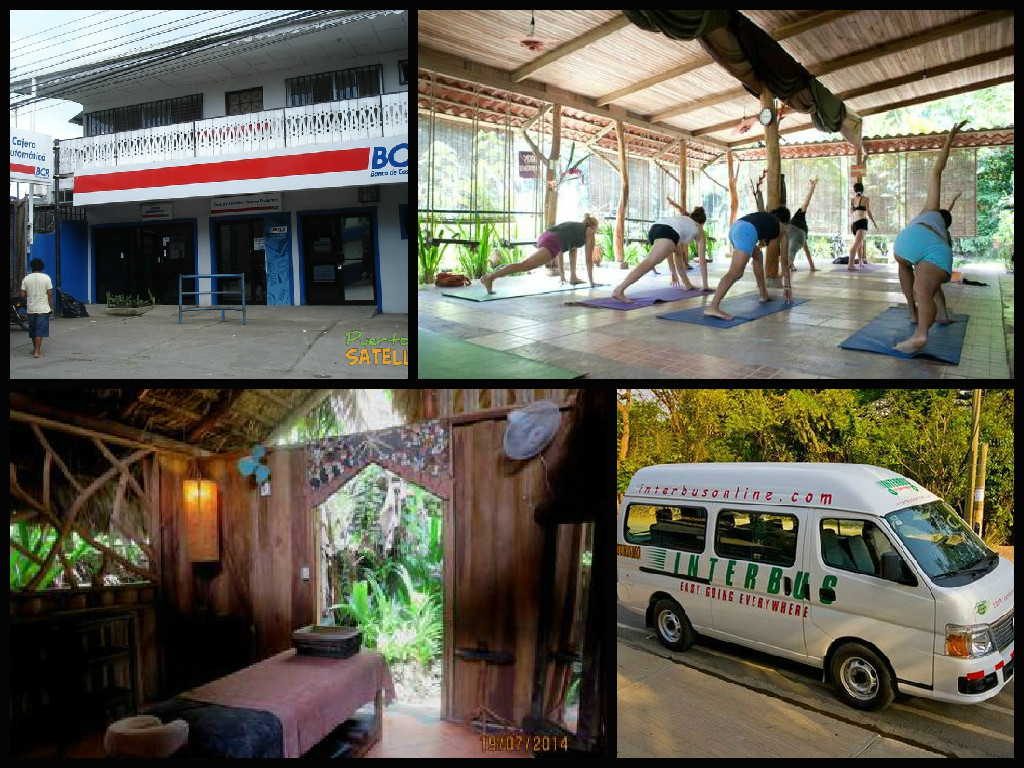 Tours, Real Estate, Massage, Medical services...There's probably someone here to help you with whatever you need!
Esa página está disponible también en español.
Puerto Viejo is no longer the sleepy place where you had to go to Limon or San Jose to get something done. There are many services offered right in town from financial services to yoga, from real estate to dentistry, from transport to massage. And of course there are tour operators offering a big variety of unforgetable adventures.
If you're looking for shopping options like groceries, souvenirs, books, etc you'll find those on our shopping page.
Sort by: Type | Area/Neighborhood | Alphabetic

Automotive
Car wash, Wheel Alignments, Tire Repair, Oil Change, Battery Repair, welding, 24/7 towing. Open daily except Sunday.


+506 2750-0185 or 8879-5202


View on map
Gas station on the way to Sixaola at the intersection of Margarita Rd. Last gas before the border.


View on map
Only full gas station for miles. The next nearest are on the way to Limón or on the way to Sixaola.


View on map
Community Organizations
Meet at Multi-Centro Building, Monday, Wednesday & Friday at 1 pm. Also Saturday's at 9 am on the beach in front of Banana Azul Hotel. Call Eddie at 2750-0080 or Colin at 2750-2035


+506 2750-0080


View on map
Community hall used for various events. Public high school for Puerto Viejo.


+506 2750 0883


View on map
A community space dedicated to creativity and learning, a space where individuals may experience hands on exploration and deep creative process. It is a place where families are empowered to co-create. Open to all people, they offer workshops, classes and gatherings of many types.


View on map
Non-profit organization that promotes sustainable tourism and businesses in the South Caribbean.


+506 2750 3117


View on map
The Bridge provides educational assistance, food assistance, and microloans mainly to indigenous people in the southeastern part of Costa Rica. Our goal is to help people help themselves to self-sufficiency.


+506 8771 9702, US phone: +1 970-389-4327


View on map
An animal relief effort working in the Puerto Viejo and throughout Talamanca canton. They do mostly dog relief and some cats as well. Their mission is to bring relief to the area stray domestic animal population as well as population control through the humane method of spaying and neutering.


+506 2756 8306 o Whatsapp a +506 8525 4863


View on map
Police, Medical and Wellness Services
Financial Services: Banks, etc
Laundry Services
Laundry, drop off service only, no self-service.


View on map
Laundry, drop off service only, no self-service.


+506 8719 5961


View on map
Spas, Hair, Massage, Yoga
Bikes & Scooters - Rentals, Sales, Repairs
There are bike rental options all over downtown Puerto Viejo, at most hotels and plenty in the surrounding areas too. We've simply mentioned a few significant places below which may have the best selection or non-standard items like mountain bikes or bikes with child seats. Some also rent snorkeling gear.
Repairs, Etc
Locksmith, key cutting for home and auto. Call for emergency lockouts


+506 6085 1666, 2750 3106


View on map
Julio Saravia offers computer repairs, web design, networking, cell repairs and unlocking.


+506 6018 0708


View on map
Miscellaneous Services
Post office. Mail your letters and parcels here. In a new larger location.


View on map
Photography for weddings, architecture (homes & business), personal photoshoots, festivals and more. Drone photos as well.


+1 720-608-6268


View on map
Multi-use building which houses several offices, community organizations and has a meeting room which can be rented for events.


View on map
Surf Lessons and Equipment
There are lots of places offering surf lessons and equipment for rent and purchase. You can also try Cocles beach.
Surf company that offers surf lessons, equipment rentals, and surf and SUP tours for everyone, beginners to advanced, ages 3 and up.


+506 8566 9444


see reviews on TripAdvisor


View on map
Surf school offering a tropical, lush, breathtaking, super-fun immersive experience in the heart of the colorful Caribbean which has quickly become one of the leading surf companies in the country. Offering private clinics and all inclusive packages, personalized for you. Ocean-certified lifeguards, professional surf instructors, surf experts and enthusiasts provide the students with the best possible learning conditions.


+506 8710 4148


see reviews on TripAdvisor


View on map
Shop offering surf and skate gear and clothing. Surf lessons. Bike rentals.


+506 2750 3063


View on map
Transportation
Car rentals. One way rentals available from locations throughout Costa Rica with pickup or return in Puerto Viejo.


+506 2750 0715


View on map
The bus station in Cahuita (Terminal Cahuita) has a MEPE ticket office as well as a mall offering a variety of small shops.


+506 2755-1011


View on map
Semi-private shuttle service to many destinations in Costa Rica. Services to/from Puerto Viejo include Bocas del Toro, San Jose, Limón Airport, Arenal, Tortuguero and San Juan del Sur. Packages for Bocas and Puerto Viejo are also available. Wifi now available on most shuttles!


+506 2750-0626


View on map
Puerto Viejo office for Interbus, who operate shuttles throughout Costa Rica. Check the Shuttle page for schedules, information and online booking.


+506 2750 2145


View on map
San José and local buses stop here. The bus ticket office for Mepe is also located directly opposite. Check the Bus Transport page for schedules. Please keep a close watch on your bags while you're here.


View on map
Travel Agencies: Tour Sales, Transport, Hotel Reservations
ATEC (Asociación Talamanqueña Ecoturismo Conservación) is Puerto Viejo's original eco-tourism provider. They work to help visitors find fun ecologically and socially responsible activities to entertain themselves while in Talamanca. Also has cards, books, souvenirs and a couple of internet terminals.


+506 2750-0398


see reviews on TripAdvisor


View on map
Offering a full selection of local tours, they can arrange rafting, canopy, snorkeling, wildlife watching and many more activities. To get around Costa Rica, they are happy to arrange a private van or shared shuttle for you. And can reserve hotels and vacation rentals that fit your needs and are stylish and unique. They work Costa Rica wide and in Panama and Nicaragua and can arrange your entire trip to any of these countries. All their packages can be tailored just for you.


+506 8724 9252 (or from USA +1 415 230-0298)


see reviews on TripAdvisor


View on map
Additional comments from our visitors about Services
Add your comment or question