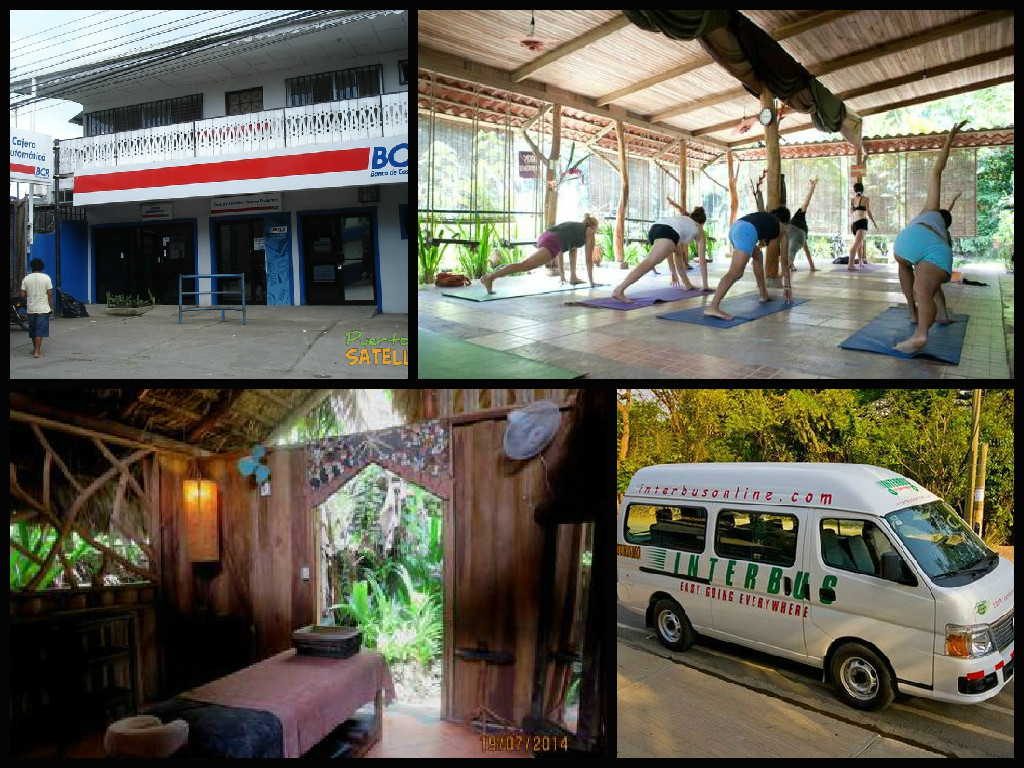 Tours, Real Estate, Massage, Medical services...There's probably someone here to help you with whatever you need!
Esa página está disponible también en español.
Puerto Viejo is no longer the sleepy place where you had to go to Limon or San Jose to get something done. There are many services offered right in town from financial services to yoga, from real estate to dentistry, from transport to massage. And of course there are tour operators offering a big variety of unforgetable adventures.
If you're looking for shopping options like groceries, souvenirs, books, etc you'll find those on our shopping page.
Sort by: Type | Recommended | Area/Neighborhood | Alphabetic

Automotive
Car wash, Wheel Alignments, Tire Repair, Oil Change, Battery Repair, welding etc.


+506 2750-0185 or 8879-5202


View on map
Police and Medical Services
Financial Services: Banks, etc
Open Mon - Fri till 4pm. ATM open 6 am - 10 pm (closed at night for security reasons)


+506 2212 2000


View on map
ATM accepts cards with Visa symbol, cashes travellers checks, does foreign exchange and full bank services. Open Monday to Friday 8am - 4pm. ATM open 6 am - 10 pm (closed overnight for security reasons).


+506 2750-0707


View on map
Cahuita Branch of BCR with ATM, money exchange and banking services.


+506 2211 1111


View on map
Spas, Hair, Massage, Yoga
Massage, facials, skin treatments, hair salon. All using local and natural products.


+506 2750 0536, 8887 9417


see reviews on Tripadvisor


View on map
See full details
Thai massage,Cranal Sacral,Deep Tissue, swedish, sports Massage, couple Massage,workshops


+506 2756-8224


see reviews on Tripadvisor


View on map
Traditional Caribbean style trensas/braids, corn rows and extensiones/extensions. Also does manicure & pedicure.


+506 8913 3472


View on map
Work out, spinning, free weight


+506 2750 3006


View on map
Located in Playa Cocles. Look for the tall wooden sign and follow the arrows. Offering yoga classes, meditation, massages, nutrition workshops and saunas. Yoga students and teachers can also choose to stay in one of their bungalows.


8326 7048


see reviews on Tripadvisor


View on map
Your experience begins with a foot soak in an aromatic infusion of flowers and botanicals while sipping on their signature jungle elixir. Massage treatments incorporate tropical oils and are accented by exotic scents while listening to the relaxing rhythms of birds and other jungle animals. Afterwards they treat you to enjoy a cup of herbal tea, fresh coconut water from a young coconut or a piece of organic chocolate. Treatments incorporate all fresh, natural ingredients hand-mixed at the time of the appointment.


+506 2756 8413


see reviews on Tripadvisor


View on map
Tup and Ro offer Massage, Yoga, Shamanic rites, Belvaspata healing and Tarot reading.


8301-2991


View on map
Full service day spa facials, peeling, full body wraps, weight loss treatments, ultra cavitation, radio frequency, anti aging treatments, waxing & massages.


2750 0269


View on map
Thai massage, yoga teacher and raw foods


8445 6026


View on map
Miscellaneous Services
One of the larger bike rental places in town. Also does bike repairs.


8641-4314


View on map
Drop-off Laundry Service, using bio-degradable soap. Drop off here or at Café Rico.


View on map
Multi-use building which houses several offices, community organizations and has a meeting room which can be rented for events.


View on map
Transportation
Semi-private shuttle service to many destinations in Costa Rica. Services to/from Puerto Viejo include Bocas del Toro, San Jose and Arenal. Packages for Bocas and Puerto Viejo are also available. Wifi now available on select shuttles!


+506 2750-0626


View on map
See full details
Car rentals. One way rentals available from locations throughout Costa Rica with pickup or return in Puerto Viejo.


+506 2750 0715


View on map
San José and local buses stop here. The bus ticket office for Mepe and Interbus is also located directly opposite. Check the Bus Transport page for schedules. Please keep a close watch on your bags while you're here.


View on map
Travel Agencies: Tour Sales, Transport, Hotel Reservations
Offering a full selection of local tours, they can arrange rafting, canopy, snorkeling, wildlife watching and many more activities. To get around Costa Rica, they are happy to arrange a private van or shared shuttle for you. And can reserve hotels and vacation rentals that fit your needs and are stylish and unique. They work Costa Rica wide and in Panama and Nicaragua and can arrange your entire trip to any of these countries. All their packages can be tailored just for you.


+506 2756 8159 (or from USA +1 415 230-0298)


see reviews on Tripadvisor


View on map
See full details
ATEC is Puerto Viejo's original eco-tourism provider. They work to help visitors find fun ecologically and socially responsible activities to entertain themselves while in Talamanca, Limon, Costa Rica. Also Internet Cafe & Gift Shop.


+506 2750-0191, 2750-0398


see reviews on Tripadvisor


View on map
See full details
Additional comments from our visitors about Services
Write a review