Super Vegetarian Friendly
Esa página está disponible también en español.
Puerto Viejo and the surrounding communities are super vegetarian friendly. Most places in Costa Rica will have some basic options for vegetarians, such as the typical "casado" plate which can come with fried cheese or eggs or sometimes just veggies. But traditional Costa Rican cooking doesn't tend to be very interesting for vegetarians and, as you can imagine, is worse for vegans.
But in the Puerto Viejo area you will find a lot more than that with tons of places that have diverse and interesting vegetarian and vegan options and a few places that are completely vegetarian. Here are some of the best options.
Sort by: Category | Alphabetic

Coffee, Ice Cream, Chocolate and Dessert
Supermarkets and Other Groceries
Hotels
Perched on a mountain ridge overlooking the Caribbean Sea, offers guest house and casita accommodations. They host retreats, workshops, guest artists and travelers. Stays include vegetarian buffet served in an open air restaurant. Also available on site are healing massage treatments, jacuzzi spa, nature trails, waterfall with natural pool, daily yoga classes and a meditation hall.


Hone Creek


800 563 9643 (USA Toll free), +506 8428 3918 (Costa Rica)


Average room rate: $105


Average rating: 89 Excellent


View on map

Vegetarian. Serves dairy and/or eggs
Spas, Hair, Massage, Yoga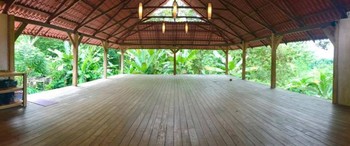 Retreat and training center. Health and wellness retreats. Yoga teacher trainings. Full service spa. Public yoga classes. Vegan and gluten free restaurant. Accommodations. Home of Caribe Yoga Academy. Previously named OM at Cashew Hill.


Puerto Viejo


+506 2750 0001


Average rating: 97 Exceptional


View on map

Vegetarian. Serves dairy and/or eggs
Schools
Cooking classes and permaculture farm from long time Puerto Viejo resident Veronica. The classes focus on vegetarian and vegan Caribbean cooking. There are also some accommodation options and occasional book in advance vegetarian meals.


Cocles


+506 8918 3238


Average rating: 100 Exceptional


View on map

Vegetarian. Serves dairy and/or eggs
Vacation Rentals
Vacation rental house for up to 4 persons hosted by a German family. Double bed plus bunk beds, equipped kitchen, living room, terrace. Vegan breakfast and dinner available as well as vegan catering.


Cahuita


View on booking.com


Average room rate: $119


Average rating: 97 Exceptional


View on map

Vegan. No animal products on menu
Additional comments from our visitors about Vegetarian and Vegan in Puerto Viejo
Add your comment or question