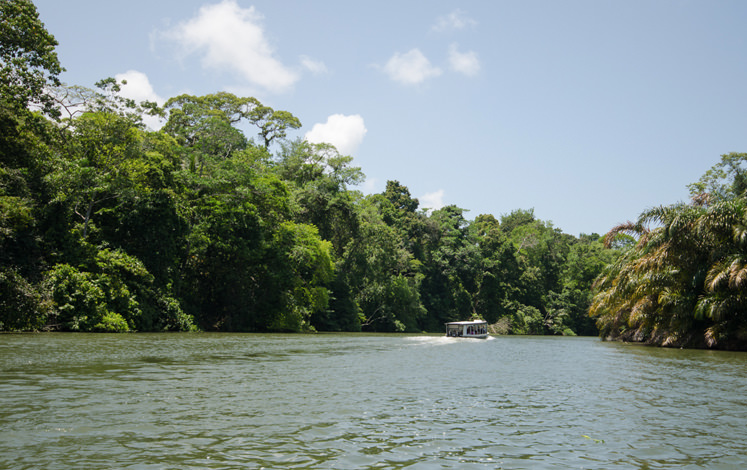 Tortuguero National Park Multiday Excursion
This page is also available in English.
Tortuguero National Park is an isolated area on the northern part of the Caribbean coast reachable only by boat or airplane. Pure and untouched nature, turtle watching and jungle canals await you. Includes minibus and boat transport to/from Puerto Viejo or San José (or start in one and end in the other).
Discover mystical canals and pristine rainforests
Tortuguero National Park is the best place in Costa Rica to encounter wildlife. It consists of a large system of waterways irrigating the majority of the Northern Caribbean area of the country. Because of its remote location and difficult access this pristine rainforest remains virtually untouched and it is home to many animals like sloths, monkeys, crocodiles, toucans, trogons, water birds, colorful frogs and butterflies. This National Park is also the prime nesting site for the green and leatherback sea turtles from July to October, during which months an optional turtle nesting night tour will be available.
You can only get there by boat or plane
You will be picked up from your Puerto Viejo area hotel (or from San José or Arenal hotels) early the first day and drive in a comfortable minibus to Cano Blanco where you will transfer to a boat for you trip through the canals to your Tortuguero lodge. Note on your departure day you can choose to return to a different destination than you started so you end up getting transport to your next destination for free. If you're coming to or from San José there is also the option for an extra charge to fly to Tortuguero on a short flight taking just 30 minutes.
Accommodation options
Both the economy and standard accommodation option are located only five minutes from the Tortuguero National Park in the Tortuguero village so you have many options within walking distance for lunches and dinners out and shopping. Standard options include La Casona and economy options include Tortuguero Cabinas. Both options include a room with private bath, hot water and fans and are based on double occupancy. Single rooms are available for an extra charge. They have authentic Caribbean style, painted with bright colors that identify the culture of the area and lush gardens.
There are many other accommodation options we can arrange from you if you're looking for something a bit fancier or more immersed in nature. Many of the local lodges are water access only via their private docks and some include all your meals. In those cases, they will also generally provide the accompanying tours so the tour options will vary with your accommodation choice.
Nature is what you're here for
The standard and economy options include a village tour and a nature tour by boat. On your arrival day there will be a tour of the Tortuguero village. If you will be here at the right time of year, a nightime turtle tour that evening is a must do for an extra charge. On the second day you will embark on a Canoe trip into the jungle where you will explore the lagoons and hidden canals. As you go deeper into the forest the canals become smaller and the surrounding wildlife gets closer. You can expect to receive plenty of good information from your naturalist guide.
For other accommodation options, your travel expert will explain the tours included in your package and customize them according to the length of your stay and your desires.
Combine with whitewater rafting
You can combine your Tortuguero trip with a whitewater rafting trip on the Pacuare River. In this option on the final day of your Tortuguero you leave from Tortuguero for the rafting center, spend the day on a river adventure for a combined 3 day/2 night adventure.
Tarifas:
| | | |
| --- | --- | --- |
| | Economy | Standard |
| 2 days/1 night | $174 | $189 |
| 3 days/2 nights | $219 | $254 |
| 3 days/2 nights with Pacuare Rafting | $319 | $344 |
Reserva
Detalles
Ubicación: Departures from Puerto Viejo, San Jose or Arenal hotels to Tortuguero

Prices start at $189 per person based on double occupancy in standard accommodation or $174 per person in economy accommodation. All prices plus tax.
Incluye:
Shuttle and boat transportation from Puerto Viejo, San Jose or Arenal area hotels to Tortuguero
Return transportation to your choice of Puerto Viejo, San Jose or Arenal area
One night of lodging or more can be added
Boat tour with a naturalist guide (standard or economy option, other lodges may provide their own tours)
Town tour (standard or economy option, other lodges may provide their own tours)
Breakfast daily (standard or economy option, other lodges may have different meal plans)
No incluye:
Upgrade to flight option
National Park entrance ($15) and Caribbean Conservation Corporation fee ($2)
Turtle nesting night tour in season
Single rooms are at an extra cost; prices quoted are for double occupancy, our agents will be happy to quote a price with single rooms if you like
Meals other than breakfast (some upgrade lodges include other meals, please ask)
Only one 15kg (33 lb) bag per person will be allowed on the boat for the final transport to Tortuguero. Please pack accordingly. If you will travel with more luggage please let us know so that we can check if this will be possible in your case or if it can be stored

Días de operacion: Daily
Recogida: Between 5:15 AM and 6:00 AM depending on pickup location. Base price is from Puerto Viejo, San José or Arenal hotels. Additional transportation charges may apply hotels outside regular pickup zones or you can make your way to the closest regular starting point.

Duration: Two days/one night or more can be added
¿Que traer?
Light clothes including long pants, swimsuit, comfortable walking shoes, rain jacket
Sunscreen, insect repellent, hat
Binoculars
For the optional/seasonal night turtle tour please wear dark clothes
All your valuables like passport, plane tickets, credit cards
Reserve now!
Please fill in the details below and we will verify pricing and availability. If you have any questions you'd like answered first feel free to contact us by email at info@puertoviejosatellite.com