Seafood, sushi, vegetarian, Italian...What are you hungry for? Or how about a drink?
Esa página está disponible también en español.
There's a great international selection of restaurants in Puerto Viejo and area, something for every taste. Check out the listings below. There's also a great selection of bars and discos to dance the night away or listen to live music.

Puerto Viejo is also super vegetarian friendly and most places cater to vegetarians but also check out our vegetarian page for the best options.
Sort by: Type | Area/Neighborhood | Alphabetic | Rating

Playa Negra (Puerto Viejo)
Manzanillo
Restaurant with a menu inspired by the Caribbean and influenced by cuisines around the world. Chef Andy Cook grew up on the Talamanca Coast right here in Manzanillo where he grew, harvested, and caught much of the food he and his family cooked at home.


2750 3151, 88437460


Average rating: 89 Excellent


View on map
Traditional Caribbean restaurant that has stood at the end of the road for many years and is still famous for their seafood. They have recently rebranded from Maxi's Restaurant and are now known as Mr. Maxie's. There is a full service restaurant and a small quick service option as well.


+506 2759-0673


Average rating: 77 Good


View on map
Argentinian restaurant and bakery


+506 6261 4853


Average rating: 100 Exceptional


View on map
Gandoca
Restaurant and Cabinas. Serves up basic homemade Caribbean fare and sell snacks and drinks. Cabinas have private baths.


+506 2754 1071


Average room rate: $32


Average rating: 90 Excellent


View on map
Bribri
Restaurant open for breakfast, lunch and dinner serving Costa Rican food


+506 8820 2410


Average rating: 100 Exceptional


View on map
Sixaola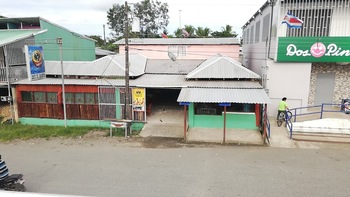 There are several places to eat in Sixaola if you find yourself with some time to kill. Typical Costa Rica food and cold beer. New owner and new name in the space where El Escorpion was.


Average rating: 80 Very Good


View on map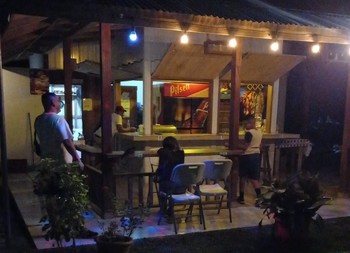 Casual restaurant with outdoor seating and local food


Average rating: 96 Exceptional


View on map
Additional comments from our visitors about Restaurants and Bars
Add your comment or question