Our overnight Pacuare Adventure is a paddle and hiking expedition! Not only will we raft a variety of exciting rapids, but we will also hike to pristine waterfalls! We will also stop at fun swimming holes and lush jungles. This package includes at least 1 hike a day, based on your athletic abilities and appetite for jungle adventure.
Day One
The first day we will paddle 13kms (8 miles) of continuous class III whitewater for a total of 14 rapids. Then we will arrive at Pacuare River Lodge shortly past noon and just in time for lunch. Afternoon activities include various optional hikes, fishing in the river or relaxing in a hammock. Pacuare River Lodge is one-of-a-kind lodge sits amid exotic primary rainforest, indigenous reserves and isolated valleys.
Along a hillside overlooking Costa Rica's most famous white water river, the Pacuare River, the 13 cabins are spaced at a comfortable distance from each other; allowing breathtaking panoramic views of the surrounding pristine jungles. Each cabin features handcrafted, custom-made teak furnishings and includes a king or two twin size beds. It is an authentic Wilderness Lodge with great comfort and location.The principle lodge is a refreshing open-air design, allowing a 360 degree view of the surrounding jungle landscape. A 14-person bar, grand kitchen and relaxing lounge complete the setting. Full shower and bathroom facilities, with nearby hiking trails, riverside beaches, and wildlife viewing create a lasting impression of nature, beauty, quality and adventure.The staff at the Lodge will be your very own river guides, who will turn into great chefs and entertainers, providing you with great service and a true unforgettable experience
Day Two
The second day begins with a hot, freshly brewed cup of Costa Rica's famous coffee. After a hearty breakfast is served and we pack our gear, our river descent continues. All of the class IV rapids are on this day. Now it is time to truly test the skills you learned on the previous day! The second day is significantly longer on the river, with 23kms (14 miles) to travel and about 30 rapids. Two stops are made: one for a nice exploratory hike and the other to have lunch on the river.
Reflect in Comfort
We finish in Siquirres, at our own private Exploration Center where you can take a shower and change. Enjoy the gardens and terrace while having a beer or two! The best part is reflecting with your new friends about the great adventure you just shared.
Please note: Other companies run the same stretch of river for 1, 2 and 3-day trips. In order to give you better value for both your time and money, we use an upper put-in for our overnight trips, giving you an extra 6.5 kilometers (4 miles) of river time. This makes your first day on the river 100% longer, in addition to running twice as many rapids.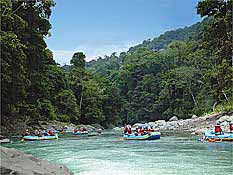 Itinerary:
Day One
6:00 — 7:00 am
Pick-up in your choice of San José, Puerto Viejo de Talamanca, Tortuguero or Arenal Volcano Area (5:30am pickup approx for Arenal and 4:30am for Tortuguero). We will advise a more exact pickup time with your confirmation.
6:30 — 8:00 am
En route to "Exploration Center" in Siquirres
8:00 — 8:45 am
Breakfast at the Exploration Center
8:45 — 9:30 am
En route to river, upper put-in at Finca La Cruz
10:00 — 10:45 am
Preparation for the descent (safety orientation, paddle practice)
10:45 — 1:45 pm
River descent (including hike)
1:45 — 3:00 pm
Arrival at Pacuare Tent camp with time to shower, change clothes, enjoy a beverage and reflect on the adventure just shared
3:30 — 5:00 pm
Team work, team building dynamics, educational experience, hikes or free time on the hammocks
5:30 pm
Happy hour!
7:30 pm
Dinner
Day Two
7:30 am
Breakfast
9:30 — 2:30 pm
River descent (including lunch and a hike)
2:30 — 3:30 pm
Arrival at Exploration Center with time to shower, change clothes, enjoy a beverage and reflect on the adventure just shared
3:30 - 5:30 pm
Transportation to your choice of: San José, Puerto Viejo de Talamanca or Arenal Volcano Area
Tour information:
Difficulty:
Class III-IV
Distance:
36 kms (22 miles)
Number of Rapids:
49
River Time:
7 hours approx.
Minimum age:
12 years old
Duration:
2 full days, 1 night
Cost per person:
Price depends on tour date:
for San Jose, Arenal or Puerto Viejo, $312pp for Tortuguero.
Includes:
Pickup and drop-off from/to your hotel in your choice of San Jose, Puerto Viejo, Tortuguero or Arenal Volcano area, training, safety equipment, guides, 2 breakfasts, 2 lunches, 1 dinner, overnight accommodation and secure luggage storage while you're on the river.
Not included:
Pickup or dropoff in Arenal at hotels located further from La Fortuna than Tabacon Resort such as Arenal Lodge, Arenal Observatory Lodge, Arenal Vista Lodge, Linda Vista, Lost Iguana and Rancho Margot.
What to bring:
Swim suit/swim shorts, change of clothes, flashlight, insect repellent, waterproof sunscreen, shoes or sandals (you must wear footwear in the boat but they will get wet).