Spread your wings and fly with this Puerto Viejo zipline and canopy tour! With over 2,500 meters of zipline cable, you will soar through the Caribbean jungle and see the world from above. Don't miss out on this thrilling canopy tour – there's nothing like it! Transportation, snacks and equipment provided.
Start Soaring
Your ziplining tour begins 30 minutes outside of Puerto Viejo. Transportation is provided from your hotel and we'll drive you to the first canopy platform. At 285 meters long and 80 meters high, an incredibly long cable will give you ample time to soak up the scenery. It will carry you to the heart of the jungle where you will take a short hike with your nature guide.
Take a Hike
Your hiking your guide will show you various flora and fauna and teach you how indigenous communities utilize these plants. After the hike you will continue your canopy adventure.
Jump Back In
The second portion of this zipline tour includes 10 aerial platforms and 12 on land. This adds up to a total of 2,760 meters of ziplining adventure. Once you climb the 7th platform, you won't touch the ground until the final run. You'll have a spectacular bird's eye view of the jungle!
At each platform your nature guide will explain the curiosities found in this lush environment. On the last platform you will choose to descend by rappelling,Tarzan swing or by zipline cable to the ground. We now also offer the possibility to have your last zipline descent head-first – Superman style – for an extra charge of $12.
After your canopy tour a snack will be provided as well as transportation back to Puerto Viejo.
Looking for even more adventure? Our FULL DAY JUNGLE ADVENTUREincludes a canopy tour and other adventures in one action packed day. Check it out out here.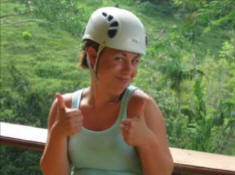 Tour information:
Departures:
Daily at 8:00 AM, 1:00 PM
Duration:
4 hours
Cost per person:
No just the zipline: $54.00
Yes add the Superman: $66.00
Includes:
Round-trip transportation, bilingual guide, fruits and beverages, safety equipment
Not included:
Additional transportation charges apply for pick up in Cahuita: $20 per person
What to bring:
Long shorts, insect repellent, comfortable shoes, your own water bottle to refill for free