After picking you up at your hotel, we will go by microbus to Sixaola, which is the town on the border with Panama. We will cross the Rio Sixaola, pass through immigration and then take another minivan which will take us to Almirante where a small passenger boat will take us to Bocastown on Isla Colon. Depending where you stay in Bocas, you will have to take another short taxi boat ride to Isla Solarte or walk to your hotel on the main island.
For the ones staying for one night, you can either go snorkeling or deepboarding in the afternoon before enjoying a nice dinner in Bocastown or at your lodge. The next morning you have off to discover the islands or relax on a secluded beach. At noon you will start the trip back to Puerto Viejo.
If you stay two nights, you will have the rest of the day free to visit one of the nearby islands or just have a walk in town. On the second day you will go on a tour to Cayo Zapatillo, where you can try out deepboarding, the new way to snorkel. The tour includes lunch and snorkeling equipment. After a day on and in the water, you can enjoy the evening in Bocastown or at your lodge and then return to Puerto Viejo the next day after breakfast. If you like an additional morning to explore the world of Bocas, we can also schedule you for the afternoon shuttle (not possible for San Jose).
For an extra charge we can also pick you up and/or drop you off in Cahuita and San Jose. Or you can chose the option to fly from and to San Jose, though flights are not available daily.
Panama is our neighboring country but tourism has a different significance than in Costa Rica. Though we select our providers carefully, you may get less value for your money. The weather can also play a role. When departing from Puerto Viejo, you are 3 hours travel away from Bocas del Toro and weather conditions can change quickly. Safety is the primary concern of the tour operator and so they reserve the right to modify the overall itinerary or a single tour. No refund will apply in this case.
You choose the grade of luxury
Our standard package comes with the choice of a more economic/midrange option or the upgrade to a more luxury option. Both places have charm and we believe that you get a good value for what you pay. The more economic option is settled on Isla Solarte and offers peace and tranquil time. Our more luxury option is settled in Bocastown but has all the amenities one wants and has a fantastic view over the water.
Hotel:
Bambuda Lodge



Tropical Suites



Features:
Bambuda Lodge is on Isla Solarte, just a 5 minute taxi-boat ride from Bocastown. It overlooks a private bay with coral reef and has incredible views of the mountainous spine of mainland Panama. The lodge is on 14 acres of pristine tropical rainforest.The main building has large spacious decks out front for lounging or sunbathing around the massive swimming pool. The lodge offers a mix of dorm and private rooms. The private rooms are located in the second house at the back of the property, away from the front building. Breakfast and free wifi are included. Children under the age of 16 are not accepted.
This oceanfront boutique hotel offers 16 suites with either inland or ocean view. It is perfectly situated in the heart of beautiful Bocas del Toro. Resting on the tranquil Caribbean shoreline, the hotel is a short stroll to fantastic over the water restaurants and an eclectic mix of shops. In addition to incredible ocean view suites, the hotel's modern concrete construction provides a quiet and comfortable refuge for the discerning traveler.
Room Features:
Spacious rooms in wood constructed, with private bathrooms, handmade wooden beds, deluxe mattresses and hot water showers. The wrap-around veranda has a huge day bed and offers views of the ocean and jungle.
All rooms come with two double or a king bed, private balcony (built over the water or with Town Center View), Generous bathroom with double sink vanity, premium LCD flat screen TV, fully equipped kitchen with mini fridge and coffee maker, air-conditioning and complimentary wifi. Includes an over the water, cooked to order breakfast.
Location:
Isla Solarte
Bocastown
Pricing:
Economy to Midrange
Luxury
Should our standard hotels be full we will offer you alternative options. The price then may vary, depending on the option you choose.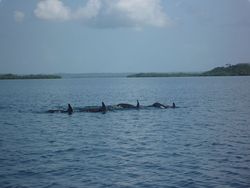 Package information:
Duration:
2 days/1 night or 3 days/2 nights
Cost per person:
2 day/1 night package: from $189.00 p/p (economy) or $219.00 p/p (luxury)
3 day/2 night package: from $279.00 p/p (economy) or $359.00 p/p (luxury)
Note - Rates are not valid for holiday seasons.
Includes:
Return transportation from Puerto Viejo area hotels to Colon Island or Isla Solarte in Bocas del Toro, Panama • One or two nights of lodging in one of our partner hotels • Local activity or one day tour to Cayo Zapatillo • Gecko Trail Costa Rica service charge
Not included:
Exit fee of $9 to be paid on the Costa Rica border; Bocas airport departure tax $15 for those choosing the return to San Jose by air option • $10/way additional charge per person for pickup in Cahuita • $45/way additional charge per person for pickup in San Jose • Single supplement if single room(s) needed • transportation from and to tour(s)
What to bring:
Bathing suit, sunglasses, sunscreen, towel, Passport and onward ticket leaving Costa Rica (or Panama if you are ending the tour there) for border crossing